CoinEx Quarterly Updates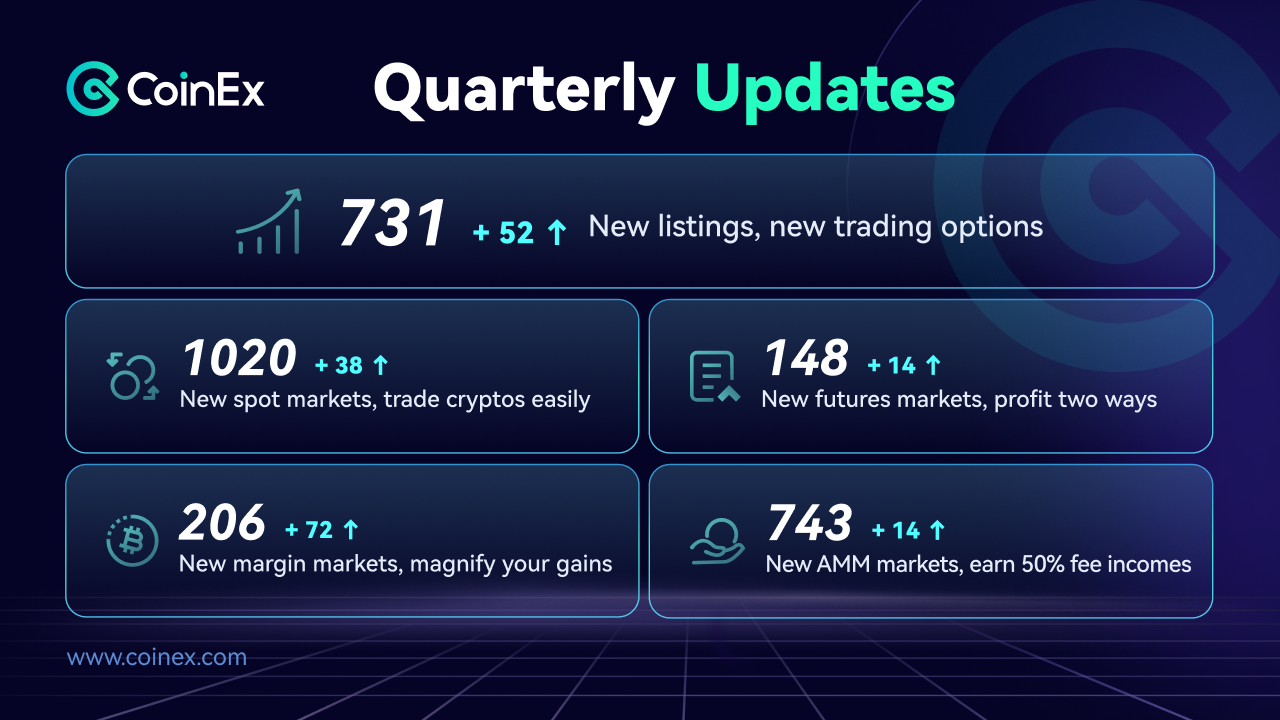 CET Privileges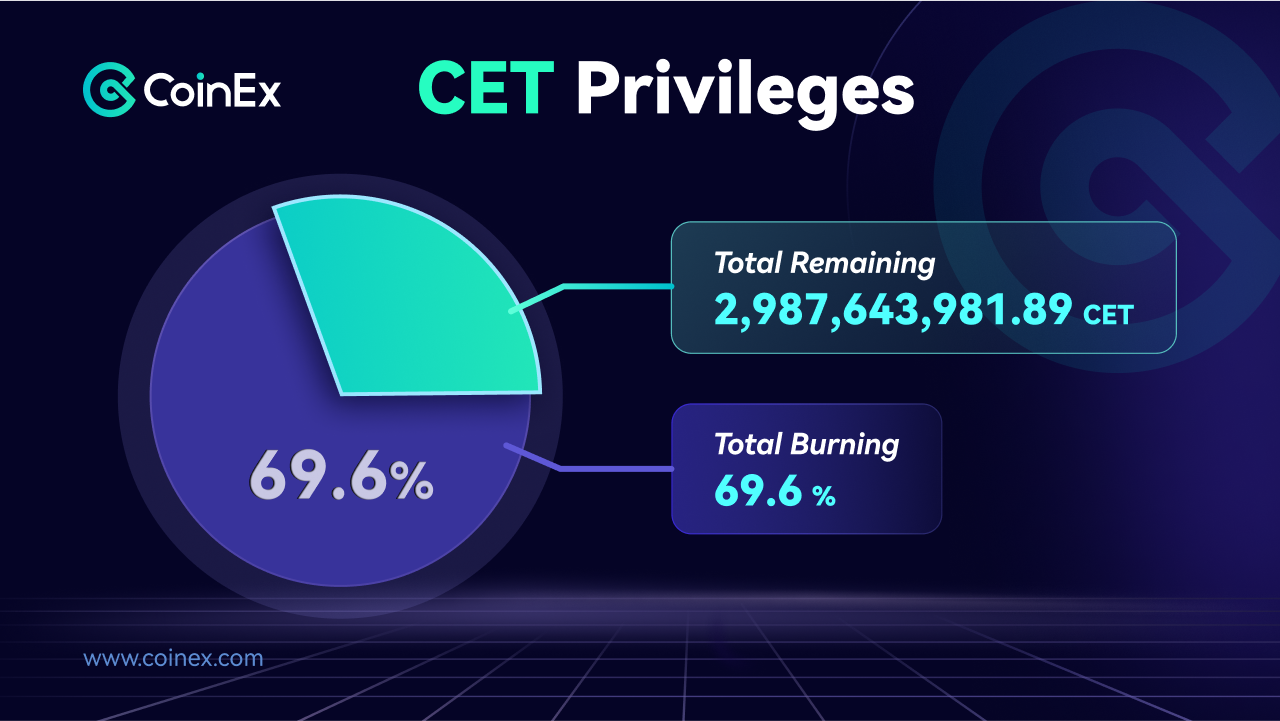 Up to July 1, 2023, the records of CET repurchasing, burning and remaining are as follows:
Total repurchased: 1,883,277,175.45 CET
Total burning: 6,964,257,230.14 CET
Total remaining: 2,987,643,981.89 CET
About CoinEx Token
CoinEx Token (CET) is a value-added services & privileges scheme based on CoinEx's business ecosystem, circulated and used in various scenarios. The core value of CET includes but is not limited to: Long-term repurchase and burning, discount deduction of trading fees, VIP privileges, exclusive promo access, and built-in tokens on self-innovated CoinEx Smart Chain.
New Listings, 2023 Q2

In this quarter, 58 new coins/tokens were listed.
Note: The above new listings are displayed in alphabetical order, and do not constitute investment advice.
Go to "New Listing" to learn more coin info >>
New Linear Contracts, 2023 Q2

In this quarter, 14 new linear contracts were added.
Note: The above new listings are displayed in alphabetical order, and do not constitute investment advice.
Welcome to trade CoinEx Futures >>
CoinEx Headlines
👑
BitHK, a new cryptocurrency exchange for Hong Kong users, was officially launched. Currently, it supports English and Traditional Chinese. In the future, P2P transactions and Hong Kong dollar services will be in the pipeline.
🎁
C-Box is an entertaining crypto mystery box that allows you to send cryptos to one or more friends at the same time. Even those who do not have a CoinEx account can claim the C-Box.
⚡️
With our optimized matching algorithm, you can swap any combination of cryptos in only 1 second.
🌍 Beginner's guides
CoinEx is committed to providing tutorials and guidelines for new crypto users, making trading easier.
CoinEx Promotions
In this quarter, CoinEx has held nearly 70 events in-site and on various platforms, giving away $150,000 reward in cash and vouchers.
🧙‍♀️ On-site promotions
· Fiat service: Buy cryptos via Guardarian, MoonPay, Simplex for 0% fees.
· Futures Tradeboard: Join BTC Pizza Day and ETH Shanghai upgrade special events, and share 30,000 USDT.
· Spot Tradeboard: Trade in MEME markets, and share 5,000 USDT.
· Airdrop Station: Learn & earn, and win KAS and OCTA incentives.
🎭 SNS Promotions
· Bitcoin Pizza Day: A total of 30 events were held on all social media platforms of CoinEx, giving away $18,000 reward in cash and $50,000 in vouchers.
· SNS bonuses: A total of 30+ SNS interactive promotions were held by giving festival blessings, joint AMA, sharing, voting, P2E, sponsorship, etc., giving away $40,000 reward in cash.
Go to "Events" for more exciting moments >>
Media & Partnership
In this quarter, CoinEx has received nearly 40 reports from 15 media worldwide, including Cointelegraph, NewsBTC, Bitcoinist, PR Newswire, Bloomberg, and Coinpedia. Also, we held meet-ups in Mexico, Argentina, Brazil, and other counties and regions, receiving great popularity among Latin American users.
Go to "Blog" for more market updates >>
About CoinEx
The global cryptocurrency exchange - Making Crypto Trading Easier
Founded in December 2017, CoinEx is a professional global cryptocurrency exchange. With our proprietary trade matching system and excellent user experience, we are dedicated to building a highly secure, stable and efficient cryptocurrency exchange for global users.
Go to "About Us" to learn more about CoinEx >>
DISCLAIMER: Other than disclosures relating to CoinEx, this quarterly report is based on public information, and we do not represent it as accurate or complete. It should not be relied on for making investment decisions or be construed as investment advice. The information, opinions, estimates, and forecasts provided in this report are subject to change.