Dear CoinEx User,

The details of CoinEx quarterly report for the third quarter of 2023 are as follows:
CoinEx Quarterly Updates
CET Privileges

Up to October 1, 2023, the records of CET repurchasing, burning, and remaining are as follows:
Total repurchased: 1,913,438,654.66 CET
Total burning: 6,994,418,709.34 CET
Total remaining: 2,960,128,887.98 CET
About CoinEx Token
CoinEx Token (CET) is a value-added services & privileges scheme based on CoinEx's business ecosystem, circulated and used in various scenarios. The core value of CET includes but is not limited to: Long-term repurchase and burning, discount deduction of trading fees, VIP privileges, exclusive promo access, and built-in tokens on self-innovated CoinEx Smart Chain.
New Listings, 2023 Q3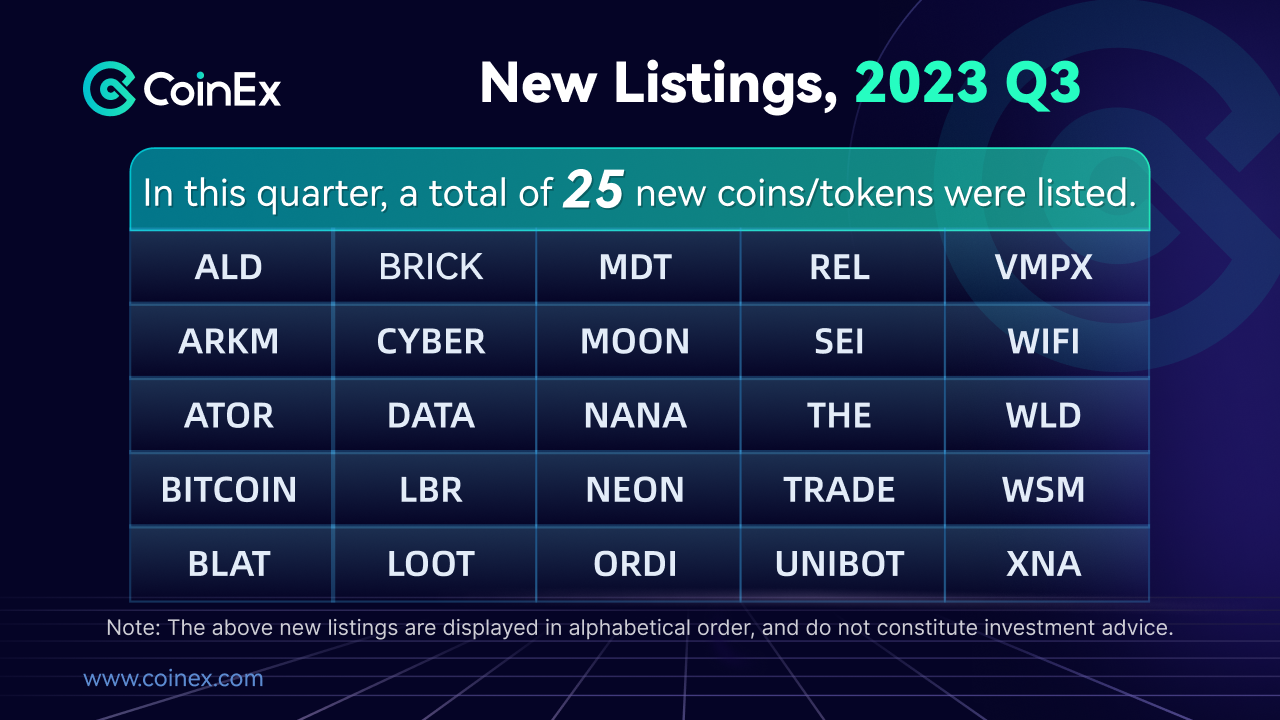 In this quarter, 25 new coins/tokens were listed.
Note: The above new listings are displayed alphabetically and do not constitute investment advice.
Go to "New Listing" to learn more coin info >>
New Linear Contracts, 2023 Q3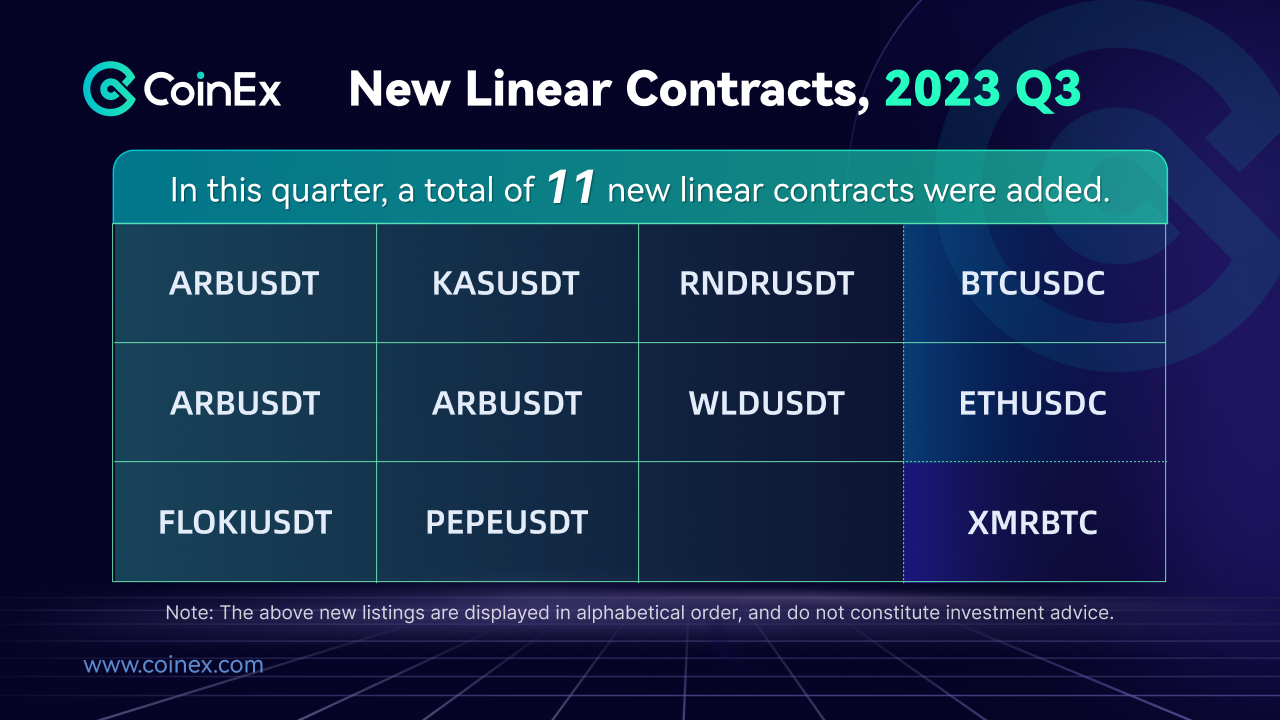 In this quarter, 11 new linear contracts were added.
Note: The above new listings are displayed alphabetically and do not constitute investment advice.
Welcome to trade CoinEx Futures >>
CoinEx Headlines
Connect to fasting trading, 40% rebate and more, while accessing the liquidity and depth of the entire CoinEx platform.
While providing quality investment options, we also help identify potential issues and pay close attention to project risks.
⚡️
With our optimized matching algorithm, you can swap any combination of cryptos in only 1 second.
🌍 Beginner's guides
CoinEx is committed to providing tutorials and guidelines for new crypto users, making trading easier.
CoinEx Promotions
In this quarter, CoinEx has held nearly 270 events in-site and on various platforms, giving away $100,000 reward in cash and vouchers.
🧙‍♀️ On-site promotions
- PoW Tradeboard: Trade KAS, RXD, NEXA, etc, and share 5,000 USDT
- Futures Tradeboard: Trade and share 30,000 USDT
- Airdrop Station: Learn & earn ZANO, XNA incentives
- Fiat service: Buy cryptos via Simplex for fee deduction
🎭 SNS Promotions
SNS bonuses: A total of 200+ SNS interactive promotions were held by giving festival blessings, joint AMA, sharing, voting, P2E, sponsorship, prediction, etc., giving away a $50,000 reward in cash.
Go to "Events" for more exciting moments >>
Media & Partnership
This quarter, CoinEx received nearly 160 reports from 20 media worldwide, including Cointelegraph, NewsBTC, Bitcoinist, PR Newswire, Bloomberg, Coinpedia, etc. Also, we have held offline meetups and charity scholarship events in India, Vietnam, Nigeria, Singapore, Indonesia, Spain, Colombia, etc., receiving positive feedback from global users.
Go to "Blog" for more market updates >>
About CoinEx
The global cryptocurrency exchange - Making Crypto Trading Easier
Founded in December 2017, CoinEx is a professional global cryptocurrency exchange. With our proprietary trade matching system and excellent user experience, we are dedicated to building a highly secure, stable and efficient cryptocurrency exchange for global users.
Go to "About Us" to learn more about CoinEx >>
DISCLAIMER: Other than disclosures relating to CoinEx, this quarterly report is based on public information, and we do not represent it as accurate or complete. It should not be relied on for making investment decisions or be construed as investment advice. The information, opinions, estimates, and forecasts provided in this report are subject to change.