Dear CoinEx Users,
To provide a wider selection of crypto trading options for CoinEx users, we have decided, after rigorous listing reviews, to list GRIN (Grin) today, Friday, July 5, 2019 (UTC) and support GRIN/BTC, GRIN/BCH, and GRIN/USDT trading pairs.
GRIN (Grin)
Official Website | Explorer | Whitepaper
Deposit & Withdrawal: 6:00 July 5, 2019 (UTC)
Trading: 3:00 July 6, 2019 (UTC)
Trading pairs: GRIN/BTC, GRIN/BCH & GRIN/USDT
Withdrawal: 6:00 Aug 5, 2019 (UTC)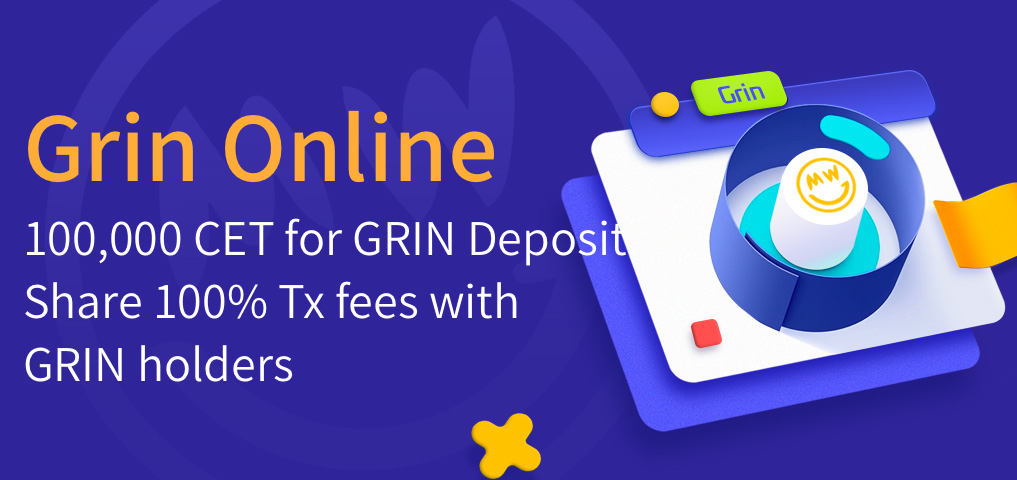 Deposit GRIN to Share 100,000 CET
Duration: From 6:00 July 5, 2019 (UTC) to 6:00 Aug 5, 2019 (UTC)
Every ID Verified CoinEx user can receive 1 FREE CET for every 1 GRIN deposit up to 500 CET with a total amount of 100,000 CET on a first come, first served basis. with
Reminders
1. GRIN withdrawal will be available after 6:00 Aug 5, 2019 (UTC).
2. Please pay attention to the coin name before making deposits to avoid unnecessary asset losses.
3. The coins/tokens that you have through trading or Inter-transfer do not count as deposits and therefore are excluded from the promotion.
Hold & Mine GRIN
Duration: From 3:00 July 6, 2019 (UTC) to 0:00 Aug 6, 2019 (UTC)
During this promotion, you will receive all the transaction fees for GRIN trading proportionally based on your GRIN holdings and the accumulative holding periods.
Requirements
Min. GRIN Holding: 20 GRIN
Holding calculation: Snapshots taken on a daily basis throughout the event
Holding period: The longer you hold GRIN, the more you receive
Coin types: GRIN (base coin), BTC, BCH, USDT (quote coins), and CET (deducted as TX fees)
Allocation Time: The rewards will be allocated to the qualified users in 7 business days from the end of the promotion.
Reminder
Make sure your CoinEx App is up to date before making any GRIN deposits.
The CoinEx Team
July 5, 2019
Follow us Facebook | Twitter  | Reddit
About us Website | Announcements | APP