Dear CoinEx Users,
We are delighted to announce that more margin pairs on BCH Markets are available on July 16, 2019 (UTC).
Adding BCH Market (Margin)
1. New Arrivals:
BCH Margin pairs: BSV/BCH、ETH/BCH、EOS/BCH、LTC/BCH
2. Supported:
USDT Margin pairs: BTC/USDT、BCH/USDT、ETH/USDT、LTC/USDT、BSV/USDT、EOS/USDT、XRP/USDT\TRX/USDT、DASH/USDT、XMR/USDT、ZEC/USDT、NEO/USDT、ETC/USDT、DOGE/USDT
BTC Margin pairs: BCH/BTC、ETH/BTC、LTC/BTC、 BSV/BTC、EOS/BTC、XRP/BTC、TRX/BTC、DASH/BTC、XMR/BTC、ZEC/BTC、NEO/BTC、ETC/BTC、DOGE/BTC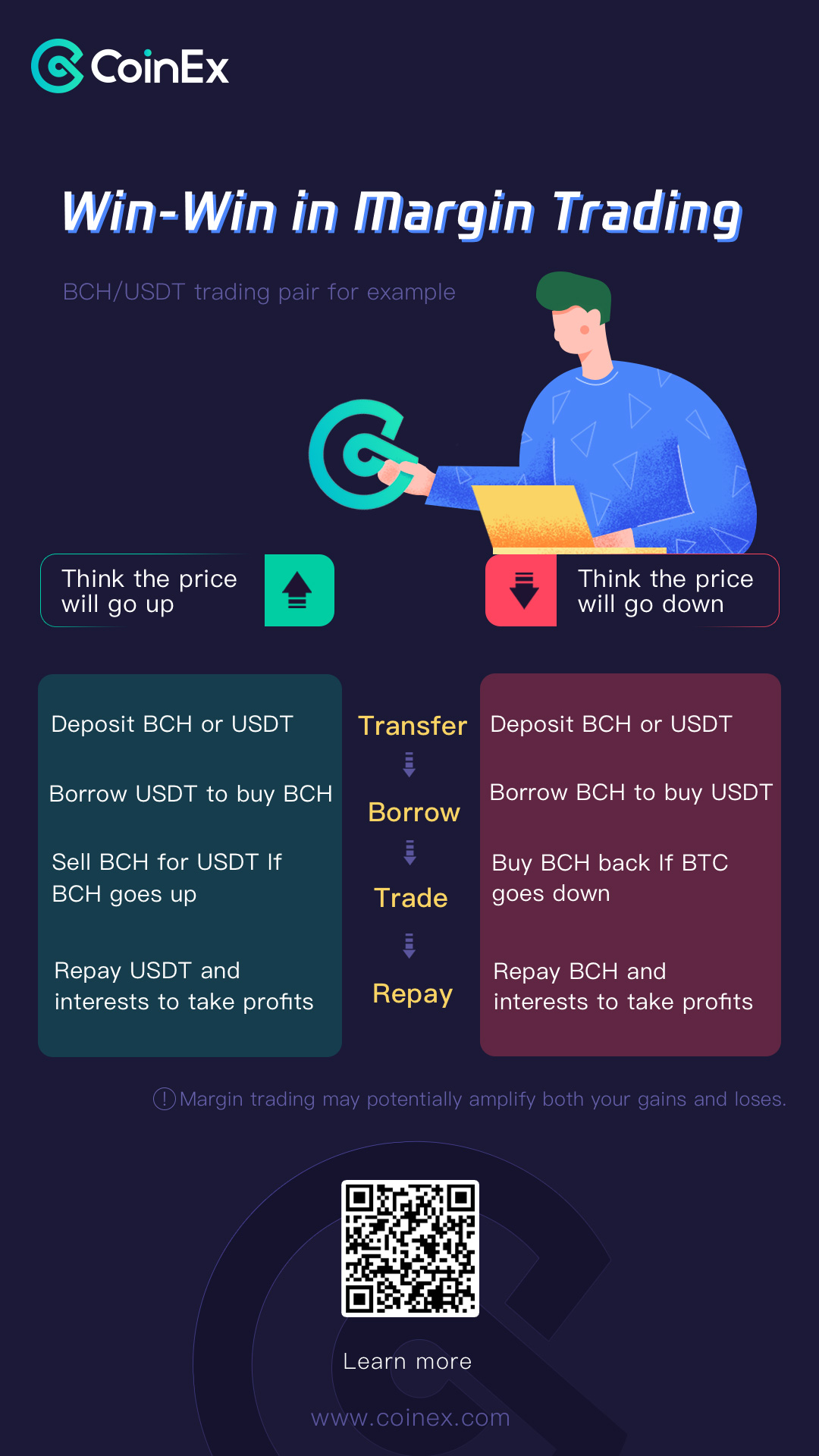 Highlights
1. The lowest liquidation risk rate 105% : The very first Dynamic Forced Liquidation Adjustment Mechanism available to adjust the liquidation risk on your positions to as low as 105%.
2. Competitive interest rate 0.05%: You can enjoy a daily interest rate of 0.05% for as long as 30 days with Auto-renewal available. In addition, the interest you need to pay is calculated for per loan and will not be cumulated over each loan.
3. Liquidation at Index Price: CoinEx employs a unique Margin Index Price marking system where weighted prices are drawn from a selection of mainstream crypto exchanges to help users to avoid forced liquidation when the market swings drastically.
4. Sufficient Insurance Fund: 30% of the daily interest is added to the Margin Insurance Fund every day to handle the bankrupt positions.
What is Margin Trading? (Learn more here)
Margin trading refers to the practice of magnifying your actual funds with potentially amplified gains or losses. Please fully understand its risks before engaging in Margin Trading as the crypto market often swings drastically.
Risks
1. Margin Trading not only allows you to magnify gains with fewer funds but can also saddle you with amplified losses when the market moves against you. Therefore, we strongly advise entry-level users not to use highly leveraged trading to avoid forced liquidation or even bankruptcy.
2. Margin traders should also reasonably use leverage, adjust their positions, and learn when to take profits or cut losses by liquidating positions.
CoinEx Team
July 16, 2019
CoinEx reserves the final right of explanation of this announcement.
Follow us Facebook | Twitter  | Reddit
About us Website | Announcements | APP