Dear CoinEx Users:
On Jul 26, 2019 (UTC), CoinEx listed DigiByte (DGB); Meanwhile, DGB deposit and trading are available, supporting DGB/BTC, DGB/BCH trading pairs.
About DigiByte (DGB)
Website | Info | Explorer
DigiByte (DGB) is a rapidly growing global blockchain with a focus on cybersecurity for digital payments & decentralized applications.
It is one of the fastest and oldest POW blockchains in the world in existence with 15 second block timings. It uses five secure and advanced cryptographic mining algorithms to prevent mining centralization compared to single algorithm blockchains. By creating and implementing DigiShield & MultiShield, DigiByte uses difficulty adjustments to protect a blockchain from several forms of malicious attacks.
Deposit: 8:00 July 26, 2019 (UTC)
Trading: 8:00 July 27, 2019 (UTC)
Trading pairs: DGB/BTC, DGB/BCH
Withdrawal: 8:00 Aug 26, 2019 (UTC)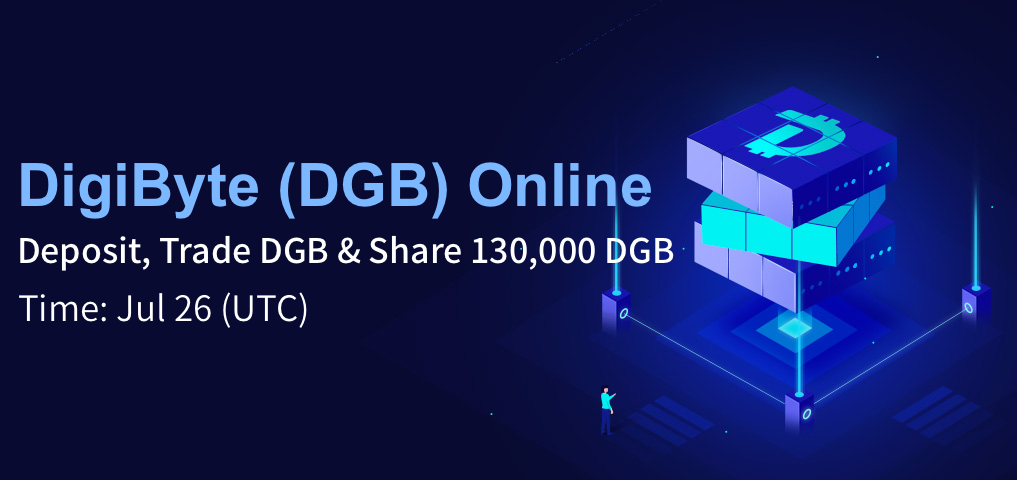 Deposit DGB to Share 30,000 DGB
Duration: From 8:00 July 26, 2019 (UTC) - 8:00 Aug 26, 2019 (UTC)
Every ID Verified CoinEx user can receive 1 FREE DGB for every 300 DGB deposit up to 300 DGB with a total amount of 30,000 DGB on a first come, first served basis.
Click [HERE] to deposit DGB
Reminder
1. DGB withdrawal will be available after 8:00 Aug 26, 2019 (UTC).
2. CoinEx may end the promotion in advance after giving away all the DGB.
3. Please pay attention to the coin name before deposits to avoid unnecessary asset losses.
4. Coins/Tokens purchased via trading or Inter-user Transfer DO NOT count as "Deposit" and are NOT available for this promotion.
Trade DGB to Share 100,000 DGB
Duration: 8:00 July 27, 2019 (UTC). - 0:00 Aug 27, 2019 (UTC)
CoinEx users can win up to 20,000 DGB based on their DGB trading volume rankings during the promotion.
No.1 20,000 DGB
No.2 18,000 DGB
No.3 15,000 DGB
No.4 12,000 DGB
No.5 10,000 DGB
No.6-10 5,000 DGB Per account
Reminders
1. You must have a DGB trading volume of more than 100 USD to be qualified.

2. Your DGB trading volume will include the data in both BCH and BTC markets and be calculated into USD value against the real-time rate when the promotion ends; 
3. CoinEx will allocate these FREE DGB to your accounts in 7 business days after the promotion.
CoinEx Team
June 14, 2018
CoinEx
Jul 26, 2019
Follow us Facebook | Twitter | Reddit
Contact us Support | Telegram
About us Website | Announcements | APP