Dear CoinEx users:
As part of our commitment to growing CoinEx into a world's leading crypto exchange, we are delighted to announce that CoinEx Lending will be online on September 3, 2019 (UTC+8) to further advance the crypto trading experience on CoinEx.
What is CoinEx Lending
CoinEx Lending is a product that increases the value of coins, and 70% of the interest income from borrowed coins of margin trading on CoinEx will be allocated to the users against the ratio of the holdings in the their CoinEx Lending. After transferring idle assets to the CoinEx Lending, the users will receive revenues yielded by their CoinEx Lending that features daily compound interest and no limit on the minimum deposit.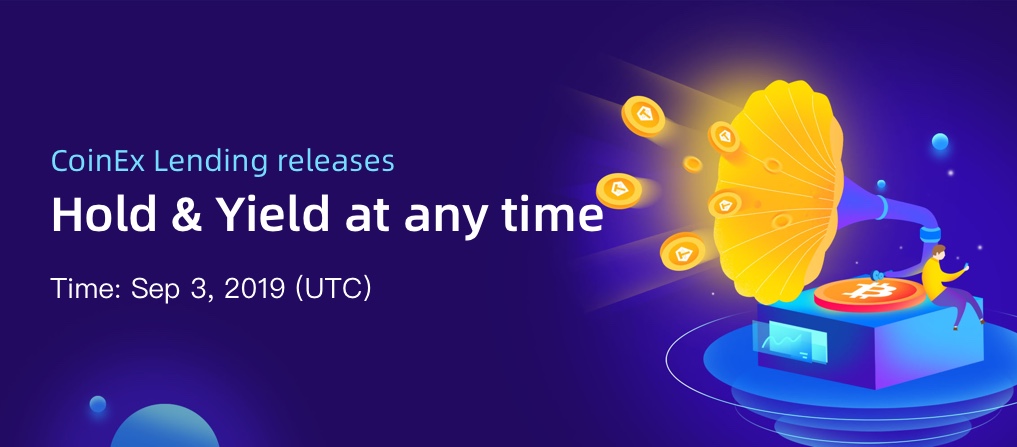 Launch Time
September 3, 2019 (UTC+8)
Supported Coin(s)
Stage I: USDT
Note: In future, adjustments will be made to the supported coins in CoinEx Lending based on the market environment and the risk level.
CoinEx Lending Features
1. Deposit coins and receive interest. It's that simple
When assets are transferred from the spot account to the CoinEx Lending, the interest will be calculated on the SECOND day of transfer instead of the first day, and on the third day the CoinEx Lending will receive the yield that will be calculated at a compound rate.
2. Compound interest received every day
CoinEx Lending calculate interest at a compound rate, and the yield will enter the users' CoinEx Lending automatically. Daily interest will be included in the confirmed amount for the calculation of the second-day interest.
3. Deposit/Withdraw coins anytime with no limit
Usually the transfers of assets are processed in real time between the CoinEx Lending and the spot account. No limit is placed on the minimum deposit and the times of transfer.
Risk Alerts
1. CoinEx Lending adjust the daily interest rate according to the borrowed coins of margin trading, and the daily interest rate might be zero under extreme situations.
2. When assets are transferred from the CoinEx Lending to the spot account, if the idle assets of all the CoinEx Lending are insufficient, the applications of transfer will be processed in time order after users return their borrowed coins, and then the part of assets can continue to receive the financing revenue.
For more details about CoinEx Lending, go to Help.
CoinEx reserves the final interpretation of this announcement.
CoinEx
Sep 3, 2019
Follow us Facebook | Twitter | Reddit
Contact us Support | Telegram
About us Website | Announcements | APP