Dear CoinEx Users:
To provide a wider selection of crypto trading options for CoinEx users, we have decided, after rigorous listing reviews, to list V SYSTEMS(VSYS) on CoinEx.
About V SYSTEMS(VSYS)
Website | Explorer | White Paper
V SYSTEMS describes itself as a blockchain infrastructure provider with a focus on database and cloud services. Powered by the Supernode Proof-of-Stake (SPoS) consensus algorithm, each supernode is elected in a decentralized network according to Proof-of-Stake (PoS) principles. According to the team, it provides high-performance minting, transaction processing, and smart contract functions. VSYS is the native currency for the V SYSTEMS blockchain platform with use cases such as transactions, staking, and minting on the network.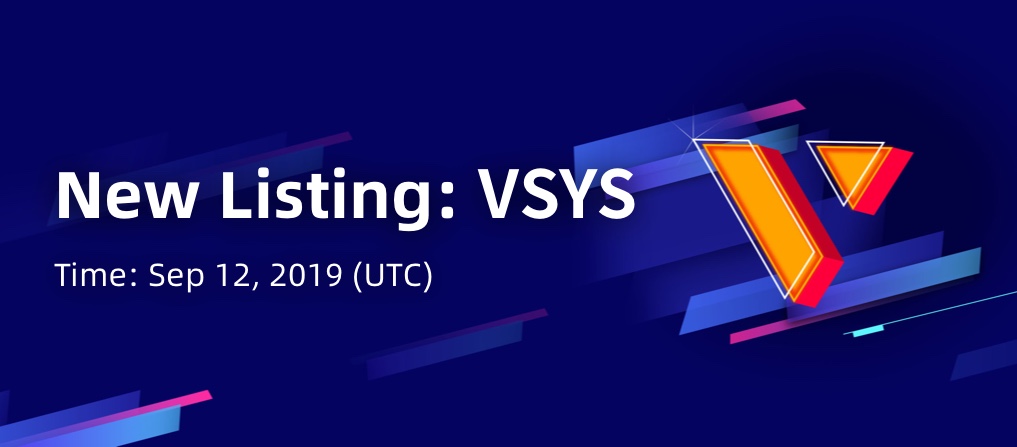 VSYS Services
1. Deposit opens at: 12:00 Sep 12, 2019 (UTC)
2. Withdrawal opens at: 12:00 Sep 12, 2019 (UTC)
3. Tradable at: 8:00 Sep 13, 2019 (UTC)
4. Trading pairs supported: VSYS/BTC,VSYS/BCH,VSYS/USDT
The CoinEx Team
Sep 12, 2019
Follow us Facebook | Twitter | Reddit
Contact us Support | Telegram
About us Website | Announcements | APP