Dear CoinEx Users:
To provide a wider selection of crypto trading options for CoinEx users, we have decided, after rigorous listing reviews, to list EOSForce(EOSC) on CoinEx. Besides, to celebrate the launch of EOSC, CoinEx will initiate "EOSC Discount and Rebate." The details are as follows:
About EOSForce(EOSC)
Website | Explorer | White paper
Based on the different governance concepts, the EOSC community has optimized the election mechanism of EOSIO and EOSC mainnet will be launching at the genesis block height of one. Through constantly upgrades of EOSC mainnet, EOSC Network will evolve into a high-performance decentralized platform as the crypto economy are growing more mature.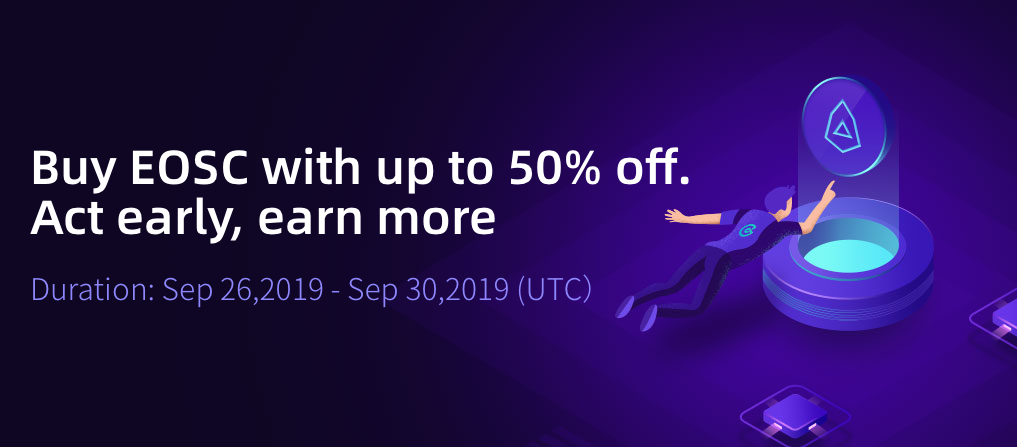 EOSC Services
1. Deposit opens at: 12:00 Sep 25, 2019 (UTC)
2. Tradable at: 8:00 Sep 26, 2019 (UTC)
3. Trading pairs supported: EOSC/USDT
EOSC Promo: Discount and Rebate
Stage One: Trade EOSC to get a discount
1. Duration: 8:00 Sep 26, 2019 (UTC) - 0:00 Nov 7, 2019 (UTC)
2. How it works: Users will receive a corresponding discount based on their trade volume (buy+sell) and CET holdings, the discount obtained in the first phase is used for the second phase of EOSC return
Example: during the promo, User A who holds 10,000 CET buys 20,000 EOSC and sell 60,000 EOSC, and the trade volume will be 80,000. Then User A will receive a discount of 35% off.
EOSC Trade Volume

EOSC Discount (during the whole promo)

Users with less than 10,000 CET

Users with 10,000-50,000 CET

Users with over 50,000 CET

[5,000,25,000)

50% off

50% off

50% off

[25,000,50,000)

50% off

50% off

50% off

[50,000,100,000)

40% off

35% off

35% off

[100,000,150,000)

30% off

25% off

25% off

[150,000,250,000)

20% off

15% off

15% off

[250,000,+∞)

10% off

5% off

5% off
Stage Two: Buy EOSC and get a rebate
1. Duration: 0:00 Nov 7, 2019 (UTC) - 0:00 Nov 12, 2019 (UTC)
2. How it works: After the users buy EOSC, CoinEx will provide rebates in the stage two of this promo to the first 100 users according to their buy volume in the second stage and the corresponding discount in the first stage.
EOSC Rebate Amount = EOSC Net Buy Amount * (1 - Discount)
Note: The EOSC Net Buy Volume is calculated by (Buy Amount - Sell amount) * (Time Weight). The time weight starts with 2 at the beginning of the promo, and it decreases linearly with the promo time. The earlier of the execution, the higher the time weight.
3. The maximum amount of rebate:Users with less than 10,000 CET: 3,000 EOSC each; Users with more than 10,000 CET: 4,000 EOSC each
4. The platform will be first-come-first-served based on the user's completed orders in the stage two, and the rebates will be allocated to the users' accounts in EOSC within 10 business days after the promo ends.
CoinEx
Sep 23, 2019
Follow us Facebook | Twitter | Reddit
Contact us Support | Telegram
About us Website | Announcements | APP