Dear CoinEx users:
To further implement the landing plan of CoinEx Chain and thoroughly promote the technical development of the public chain, CoinEx (Foundation) launched the "Global Nodes Election" and advance the recruitment in the form of roadshows. This time the meetup will be held in Shanghai on November 2 and release relevant details regarding the nodes election to global investors.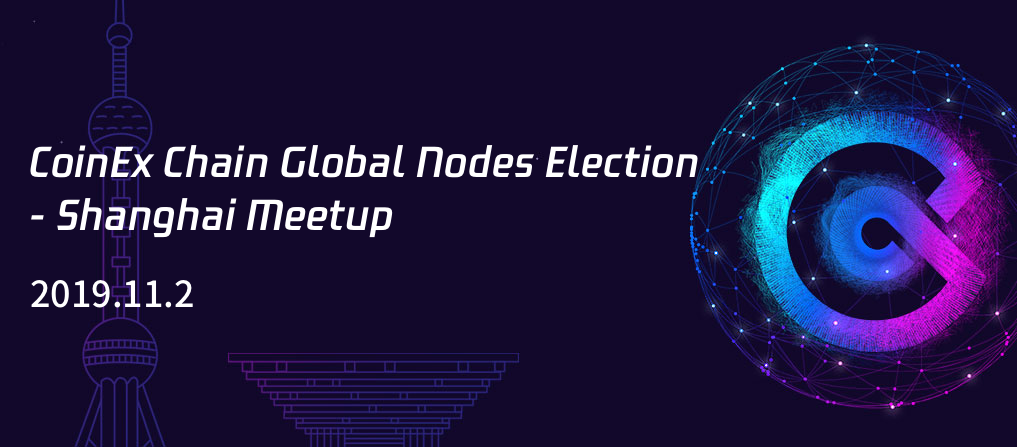 The meetup will invite financial experts, technicians, KOL, well-known investors, renowned media and top institutions in the industry. At that time, the elites in the blockchain industry will gather together to discuss the technical value of the public chain and promote the leading development of blockchain technology innovation.
On June 28, 2019, CoinEx officially released the white paper of CoinEx Chain. CoinEx Chain is the world's first public chain dedicated for the decentralized exchange (DEX), and it aims with the industry's highest technical standards to create a decentralized trading system (CoinEx DEX) which is governed by the community and operated with transparent trading rules, and allows the users to control their own assets. Also, It will innovatively develop an enriched ecosystem with three public chains DEX Chain, Smart Chain and Privacy Chain, three of which parallel each other.
Following the Shanghai stop, we will continue to hold meetups for CoinEx Chain nodes recruitment in places like Wuzhen, Singapore and Hong Kong, showcase the outcome of CoinEx Chain to people working in the blockchain industry across the world, attract more partners that participate in the nodes election, and together build the value ecosystem of CoinEx Chain.
Now you can register for the Shanghai meetup. Open the link and sign up: https://www.huodongxing.com/event/2516632044200
CoinEx Chain Foundation
Oct 30, 2019
Follow us Facebook | Twitter | Reddit
Contact us Support | Telegram
About us Website | Announcements | APP