Dear CoinEx users:
Committed to communicating with users and listening to their opinions, the CoinEx team continues to iteratively optimize products and provide a premium experience for global digital currency investors. With regard to this, CoinEx will gradually build more bridges for communication with users. To begin with, we invite you to "fill out the survey and get 100 CET airdrops". With only 2 minutes, you may make a great contribution to the progress of CoinEx. The details of the event are as follows: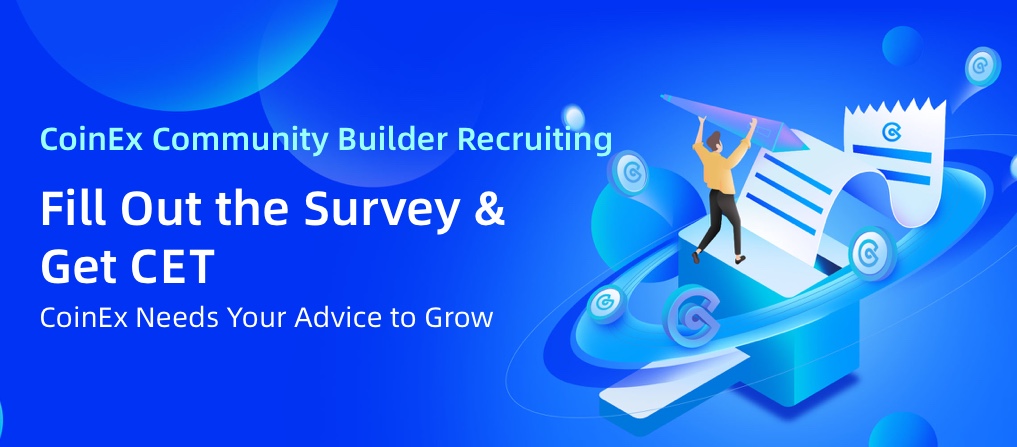 Duration:
October 24, 2019 - October 30, 2019
Rules and Rewards:
1. Basic Reward: Fill out the survey with valid answers and 50 applicants will be randomly selected to receive the rewards of 100 CET.
2. Outstanding Contribution Award: We will select 5 outstanding community contributors who provide constructive comments at the bottom of the survey, and each will be rewarded with 1,000 CET.
Survey Link:
Click [here] to fill out the survey.

Event Description:
1. The event reward will be distributed to the winners' accounts after the event is over. Please fill in the survey with the correct CoinEx account so you will receive the reward.
2. Cheating in any form is forbidden in this event. Once found, the user will be disqualified for this event.
3. CoinEx reserves the right of final decision and interpretation of this event.
CoinEx team
Oct 24, 2019
Follow us Facebook | Twitter | Reddit
Contact us Support | Telegram
About us Website | Announcements | APP