Dear users:
After nearly 7 months of development and testing by the development team of CoinEx Chain, the R&D of the mainnet has progressed smoothly and the mainnet will be officially launched on November 11 . We would like to express our sincere gratitude to all systems developers, community members, participants and supporters.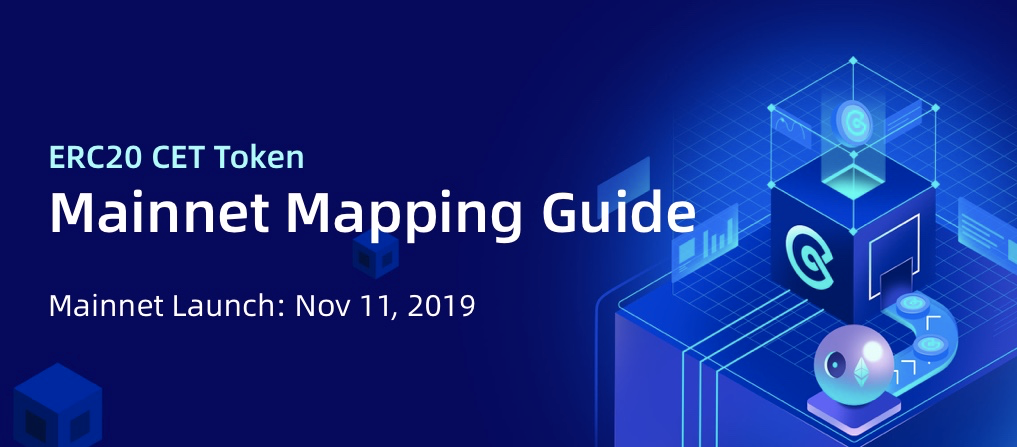 After the mainnet is launched, we will officially start the mapping of the ERC20 CET. Details are as follows:
Mainnet mapping period
The mainnet mapping is available for one year after CoinEx Chain Mainnet is launched (until November 10, 2020).
How the mapping works & What you need to do
The mapping(token swap) can only be completed in the CoinEx exchange. CET holders need to deposit their ERC20 CET to the CoinEx exchange. Then the CoinEx exchange will start the mainnet mapping(token swap) for the corresponding amount of ERC20 CET in the user's account. After the mapping, the amount of CET that you withdraw from the CoinEx exchange will be CET(Mainnet).No operations are needed for CET in the CoinEx account to complete mainnet mapping.
The specific rules and methods of operation are as follows:
1) Before and after the mainnet is launched, any deposit, withdrawal and transfer won't be affected. No operations are needed for CET in the CoinEx account to complete mainnet mapping.
2) When the mainnet is launched, ERC20 CET in the CoinEx exchange will be converted into CET(Mainnet). After the user creates a account(address) on CoinEx Chain mainnet, you may withdraw CET(Mainnet) from the CoinEx exchange to this new address of the mainnet, or to a third-party wallet or an independent wallet that supports CET(Mainnet). Currently, some wallets such as ViaWallet and IFWallet already support CET(Mainnet). In the future, there will be more third-party or independent wallets that support the native mainnet tokens.
3) You can deposit the ERC20 CET stored in other wallets to the CoinEx exchange within the specified period and then withdraw it for the mainnet mapping.

For any question that arises during the mapping process, please send it here, and we will have someone to respond to your questions.
CoinEx Chain Foundation
Nov 8, 2019
Follow us Facebook | Twitter | Reddit
Contact us Support | Telegram
About us Website | Announcements | APP