Dear CoinEx Users:
To provide a wider selection of crypto trading options for CoinEx users, we have decided, after rigorous listing reviews, CoinEx will launch three events to reward our users when CKB deposit and withdrawal are officially supported at 13:00 on Nov 18, 2019 (UTC).
Nervos Network (CKB)
Website | Whitepaper | Explorer
The Nervos Network (CKB) is an open source public blockchain ecosystem and collection of protocols solving the biggest challenges facing blockchains like Bitcoin and Ethereum today.
The Nervos Network represents the entire ecosystem of Nervos and is a collection of protocols, layer 2's and public blockchains underpinned by the Nervos CKB and CKByte token.A core design principle at Nervos is that layer 2 solutions such as side-chains, plasma chains and state channels are the best way to scale a blockchain system. Nervos utilizes layer 2 solutions that bring nearly unlimited transaction capabilities and minimal transaction cost to a layer 1 blockchain that's designed to be secure, permissionless and decentralized.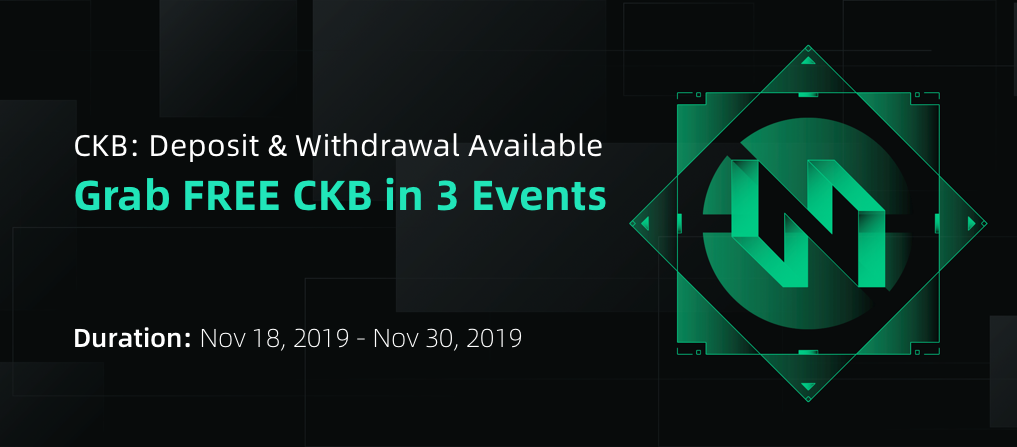 CKB Services
1. Deposit opens at: 13:00 Nov 18, 2019 (UTC)
2. Withdrawal opens at: 13:00 Nov 18, 2019 (UTC)
3. Trading pairs supported: CKB/USDT
Event 1: Hold & Share 45,000 CKB
Duration: November 18, 2019 - November 30, 2019
How it works: During the event, CKB holders on CoinEx can share a total amount of 45,000 CKB in 13 days. The reward will be allocated every day according to their holdings ratio; the more CKB you hold, the more CKB you can get.
Event 2: Share the poster to double your reward
Duration: November 18, 2019 - November 30, 2019
How it works: During the event, share the poster in at least 2 Telegram groups (each with more than 200 people), and you can double your reward from holding CKB (the maximum is 1,000 CKB). If you didn't participate in Event 1 but you meet the requirement of Event 2 you can also get 100 CKB.
Example: User A successfully receives 200 CKB in Event 1 and then shares the poster in 2 Telegram groups (each with more than 200 people).
How to receive the poster: check the end of the announcement
How to upload the poster: https://forms.gle/qAQoAerULTKciVUv9
Event 3: Trade CKB & draw the lottery
Duration: November 18, 2019 - November 30, 2019
How it works: During the event, all of the CKB holders who have traded CKB (more than 10 USDT) can get a chance to win the big lottery; CoinEx Team will select one qualified user for the winner and the prize is 15,000 CKB
Event posters: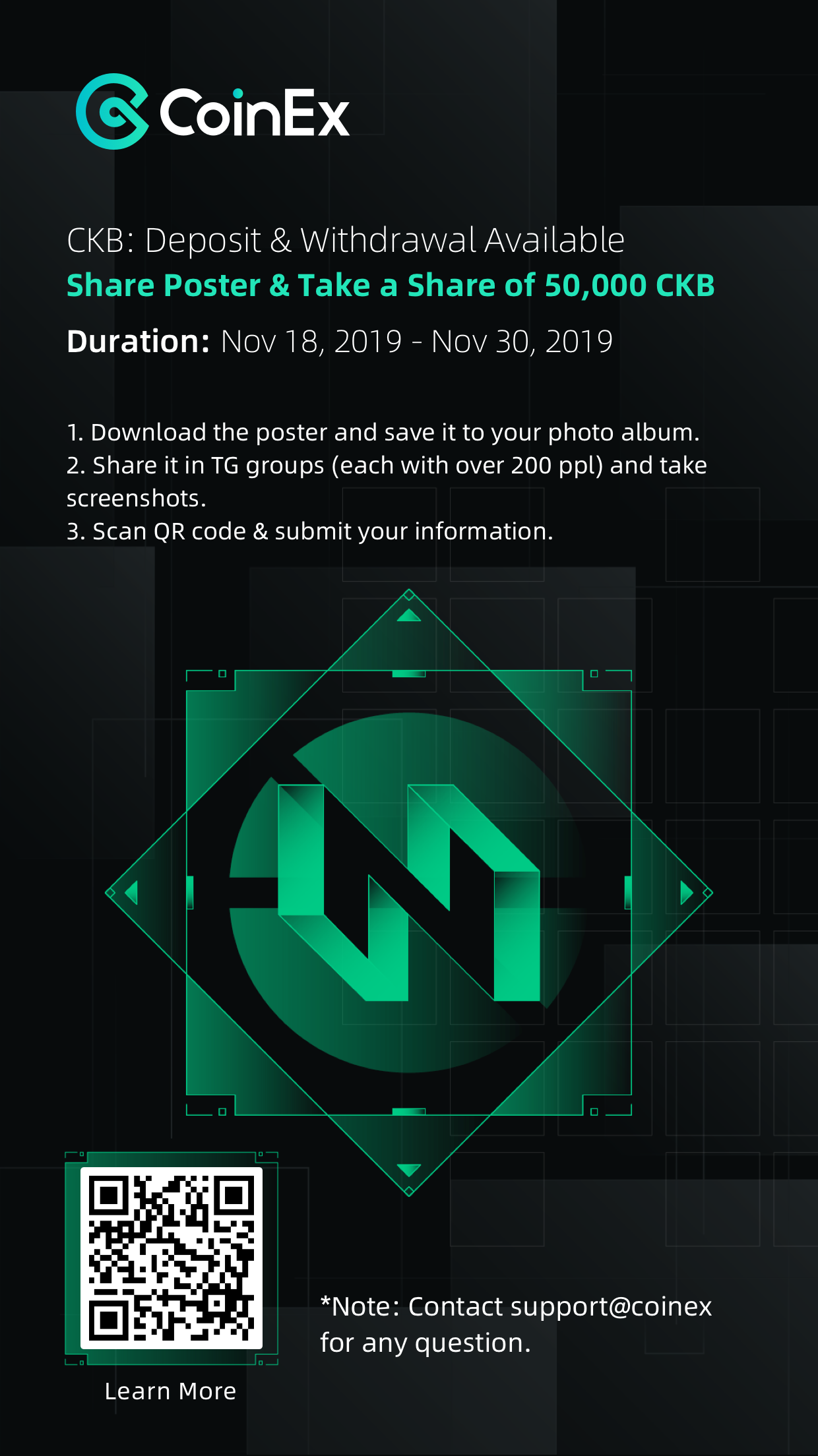 CoinEx
Nov 18, 2019
Follow us Facebook | Twitter | Reddit
Contact us Support | Telegram
About us Website | Announcements | APP