Dear CoinEx users,

To provide you with more options in crypto trading, after rigorous reviews, CoinEx is planning to list Sumokoin (SUMO) on December 25, 2019 (UTC). For the celebration of SUMO launch, CoinEx will hold the following event.

About Sumokoin(SUMO)
Website | Explorer | White paper
Sumokoin is a cryptocurrency used for highly confidential trading with the characteristics of privacy-protecting, untraceable, decentralized and reliable. Sumokoin was created with a high degree of privacy, which set the RingConfidential(RingCT) to 48, making it available to resist the blockchain analysis by hiding the source and transferring the volume.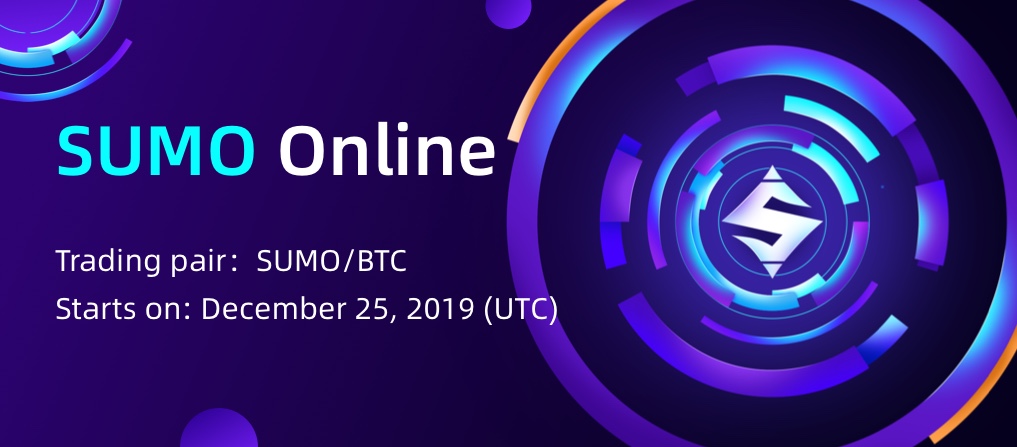 SUMO Services
1. Deposit: 4:00 December 24, 2019 (UTC)
2. Trading: 4:00 December 25, 2019 (UTC)
3. Withdrawal: 4:00 December 31, 2019 (UTC)
4. Trading pair: SUMO/BTC

Event Details
Duration: 4:00 December 25 - 16:00 December 30, 2019 (UTC)
Rules: During the event, CoinEx users with a net deposit of 500 SUMO can participate in the ranking and grab a share of 10,000 SUMO.
a. The top 200 users ranked by the deposit time are qualified to get a reward of 30 SUMO for each.
b. Apart from 30 SUMO for each, the top 10 users ranked by the deposit amount can ALSO get another reward (See below).
No.1: 1500 SUMO
No.2: 1000 SUMO
No.3: 500 SUMO
No.4 - No.10: Equally share 1000 SUMO

Notes:
1. Net Deposit= Deposit - Withdrawal.
2. During the event, should any cheating behavior be found, the user will be disqualified.
3. The sub-account is not allowed to participate as an independent account, and the deposit amount of sub-accounts and leveraged accounts is also calculated into the main account.
4. Transfers within the station are not included in the deposit amount.
5. Reward distribution: Event rewards will be issued within 2 weeks after the event.
6. CoinEx reserves the right of final explanation for this event.

CoinEx Team
December 24, 2019

Follow us Facebook | Twitter | Reddit
Contact us Support | Telegram
About us Website | Announcements | APP