Dear CoinEx users,

To provide you with more options in crypto trading, after rigorous reviews, CoinEx is planning to list MATIC on December 27, 2019 (UTC). For the celebration of MATIC launch, CoinEx will hold the following event.

About MATIC
Website | Explorer | White paper
Matic Network is a second layer scalable platform that enables fast, simple, and secure off-chain transactions. It can not only pay for transactions, but also implement generalized off-chain smart contracts. Matic Network is an important contributor to the Ethereum ecosystem, committed to the implementation of plasma MVP (lowest running plasma), WalletConnect protocol and Ethereum event reminder engine, in which Dagger made outstanding contributions. Matic tokens, on the one hand, are used for equity stakes and participating in the PoS mechanism of the sidechain network. On the other hand, also used to pay mining rewards and other transaction / mining fees to PoS beneficiaries. For every transaction, a small portion of the transaction fees will be stored in the agreement to support the projects of the Matic ecosystem and paid through chain governance.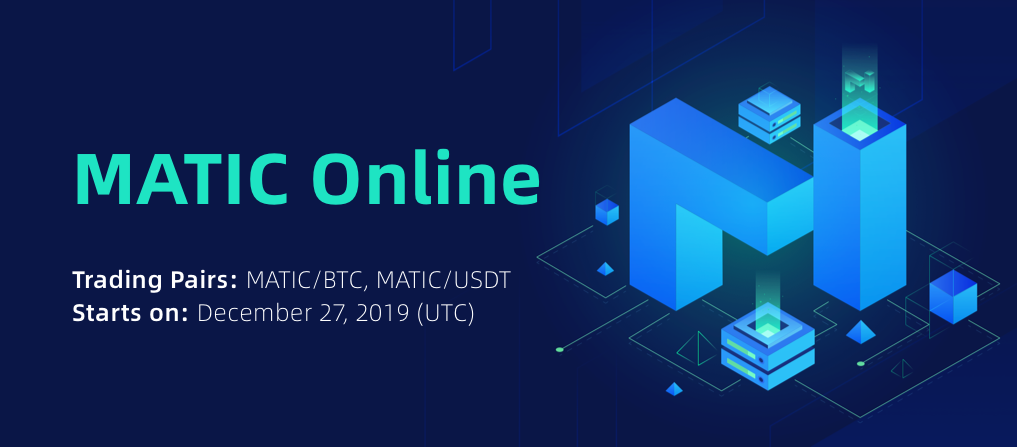 MATIC Services
1. Deposit: 4:00 December 27, 2019 (UTC)
2. Trading: 4:00 December 31, 2019 (UTC)
3. Withdrawal: 4:00 December 31, 2019 (UTC)
4. Trading pairs: MATIC/BTC,MATIC/USDT

Event Details
Duration: 4:00 December 27 - 16:00 December 31, 2019 (UTC)
Rules: During the event, CoinEx users with a net deposit of every 10,000 MATIC can get a reward of 100 CET for each (max. 1500 CET). CoinEx will give away 100,000 CET in total on a first-come-first-served basis.

Notes:
1. Net Deposit= Deposit - Withdrawal
2. During the event, should any cheating behavior be found, the user will be disqualified.
3. The sub-account is not allowed to participate as an independent account, and the deposit amount of sub-accounts and leveraged accounts is also calculated into the main account.
4. Transfers within the station are not included in the deposit amount.
5. Reward distribution: Event rewards will be issued within 2 weeks after the event.
6. CoinEx reserves the right of final explanation for this event.

CoinEx Team
December 26, 2019

Follow us Facebook | Twitter | Reddit
Contact us Support | Telegram
About us Website | Announcements | APP