Dear CoinEx users,

To provide you with more options in crypto trading, after rigorous reviews, CoinEx is planning to list ENJ on December 28, 2019 (UTC). For the celebration of ENJ launch, CoinEx will hold the following event.

About ENJ
Website | Explorer | White paper
Enjin, launched in 2009 and headquartered in Singapore, is the largest online gaming community creation platform. After a decade, it has accumulated 250,000 gaming community associations, eSports teams, Minecraft servers, gaming communities, gaming clans, role-playing groups, fan websites, etc.. Currently, there are 18.7 million registered players on this platform and about 60 million global gamers visit it every month. Enjin focuses on content management systems and forum creators, and each community store sells millions of dollars of virtual goods per month. Enjin now is trying to use blockchain to transform the existing business. The "Enjin Coin" listing allows players, content creators and game publishers to add virtual goods and provide value to games and the community.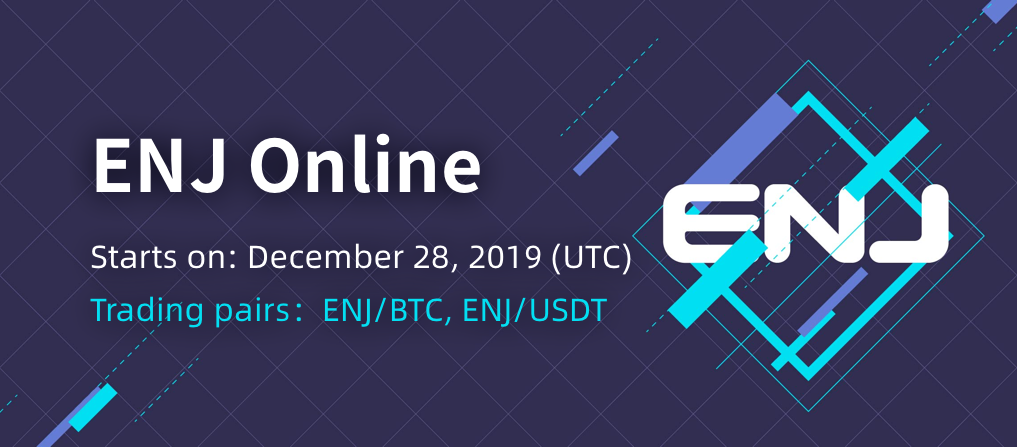 ENJ Services
1. Deposit: 4:00 December 28, 2019 (UTC)
2. Trading: 4:00 December 31, 2019 (UTC)
3. Withdrawal: 4:00 December 31, 2019 (UTC)
4. Trading pairs: ENJ/BTC,ENJ/USDT

Event Details
Duration: 4:00 December 28 - 16:00 December 31, 2019 (UTC)
Rules: During the event, CoinEx users with a net deposit of every 2000 ENJ can get a reward of 100 CET for each (max. 1500 CET). CoinEx will give away 100,000 CET in total on a first-come-first-served basis.

Notes:
1. Net Deposit= Deposit - Withdrawal
2. During the event, should any cheating behavior be found, the user will be disqualified.
3. The sub-account is not allowed to participate as an independent account, and the deposit amount of sub-accounts and leveraged accounts is also calculated into the main account.
4. Transfers within the station are not included in the deposit amount.
5. Reward distribution: Event rewards will be issued within 2 weeks after the event.
6. CoinEx reserves the right of final explanation for this event.

CoinEx Team
December 27, 2019

Follow us Facebook | Twitter | Reddit
Contact us Support | Telegram
About us Website | Announcements | APP