Dear user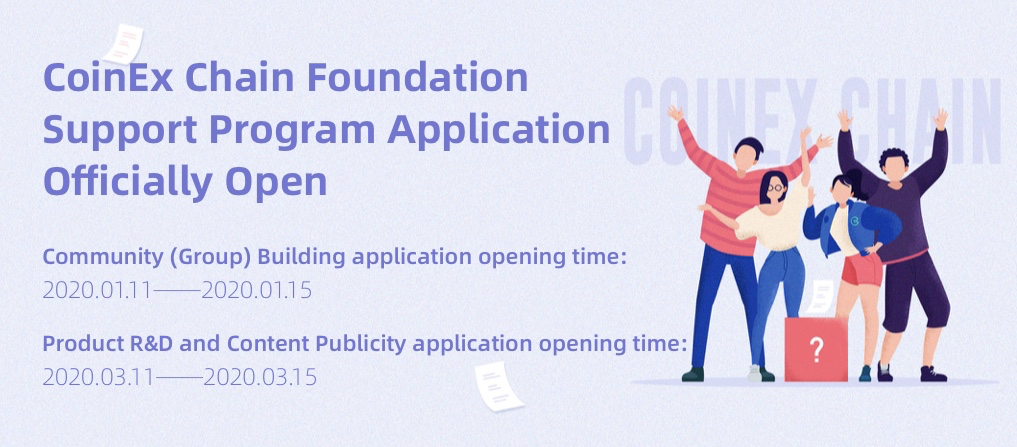 In order to promote community construction and encourage more institutions and individuals to participate in the construction of the CoinEx Chain ecosystem, CoinEx Chain Foundation has officially opened application for the first quarter of the Support Program of CoinEx Chain Foundation at 4:00 (UTC) on Jan 11, 2020.
I. Application Process
1. Applicants should apply online in "Foundation" in the "CoinEx Chain" section of the CoinEx Chain official forum https://forum.coinex.org/. Application of Community (Group) Construction should be submitted on January 11th and 15th. Application of Product R&D and Content Publicity should be submitted on March 11th and 15th
2. After the application, please send relevant materials by email to foundation@coinex.com before March 25th
3. The subject of the email is [applicant name + support category]. The receipt of the email is considered successful application. Overdue application will be deemed a waiver of application.
II. Special Notes
1. Awards are applied on a quarterly basis. The online application will be open from the 1st to 15th of the first month and the last month of each quarter. The deadline for submission of materials is the 25th of the last month of the quarter (respectively, March, June, September and December). Applicants should pay attention to the application time of each category.
2. At 4:00 (UTC) on the 11th of the first month of each quarter, we will announce the rankings of each category in the previous quarter in the Chinese and English sections of the CoinEx Chain official forum, and the winners will be notified by email.
3. The rankings publicity lasts from the 11th to the 13th of the first month of each quarter. The day after the end of the publicity period, the CoinEx Chain Foundation will directly distribute rewards to qualified applicants of each category in the previous quarter in 3 working days.
For any question or concern that arises during the application process, please send an email to support@coinex.com for consultation, and we will have someone to respond to your questions.
CoinEx Chain reserves the final interpretation of this announcement.
CoinEx Chain Foundation
Jan 11, 2020
Follow us Facebook | Twitter | Reddit
Contact us Support | Telegram
About us Website | Announcements | APP