Dear CoinEx users,

To provide you with more options in crypto trading, after rigorous reviews, CoinEx is planning to list KDA on January 17, 2020 (UTC). For the celebration of KDA launch, CoinEx will hold the following event.

About KDA
Website | Explorer | White paper
Kadena's public blockchain platform, is a braided, parallelized Proof-of-Work consensus mechanism that improves throughput and scalability while maintaining the security and integrity found in Bitcoin. In short, Kadena is a blockchain that is faster, more secure, and more scalable.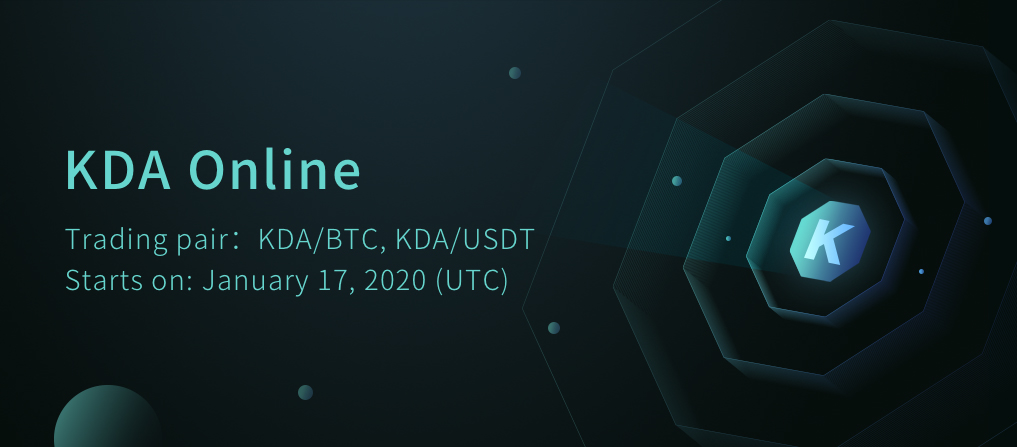 KDA Services
1. Deposit: 3:00 January 17, 2020 (UTC)
2. Trading: 3:00 January 22, 2020 (UTC)
3. Withdrawal: 3:00 February 14, 2020 (UTC)
4. Trading pair: KDA/BTC, KDA/USDT.

Event Details
Duration: 3:00 January 17, 2020 - 16:00 January 22, 2020 (UTC)
Rules: During the event, CoinEx users with a net deposit of every 1500 KDA can get a reward of 100 CET (max. 1000 CET/ user). CoinEx will give away 200,000 CET in total on a first-come-first-served basis.

Notes:
1. Net Deposit= Deposit - Withdrawal
2. During the event, should any cheating behavior be found, the user will be disqualified.
3. The sub-account is not allowed to participate as an independent account, and the deposit amount of sub-accounts and leveraged accounts is also calculated into the main account.
4. Inter-user transfer is not included in the deposit amount.
5. Reward distribution: Event rewards will be issued within 2 weeks after the event.
6. CoinEx reserves the right of final explanation for this event.

CoinEx Team
January 17, 2020

Follow us Facebook | Twitter | Reddit
Contact us Support | Telegram
About us Website | Announcements | APP