Dear CoinEx users,

To provide you with more options in crypto trading, after rigorous reviews, CoinEx is planning to list ANT on February 17, 2020 (UTC). The details are as follows.

About Aragon(ANT)
Website | Explorer | White paper
Aragon is a dApp on the Ethereum chain that allows anyone to create and manage any organization. Aragon Network is a digital management organization controlled by tokens, focusing on creating the best conditions for economic growth. In essence, the Aragon Network is an ecosystem available for any organization, entrepreneur, and investor to collaborate efficiently and securely, without technical flaws and malicious participants. Its on-chain organization will be built by Aragon Core, which is composed of a Solidity language Decentralized Autonomous Organization (DAO) and a web-side decentralized Application (dApp). Initially, Aragon Core will focus on capitalized corporate organizations, but its modular functions are also applicable to other types of organizations. Aragon Token (ANT), issued by Aragon Network, is mainly used to manage the Aragon Network and mortgage the Aragon Network Member Agreement.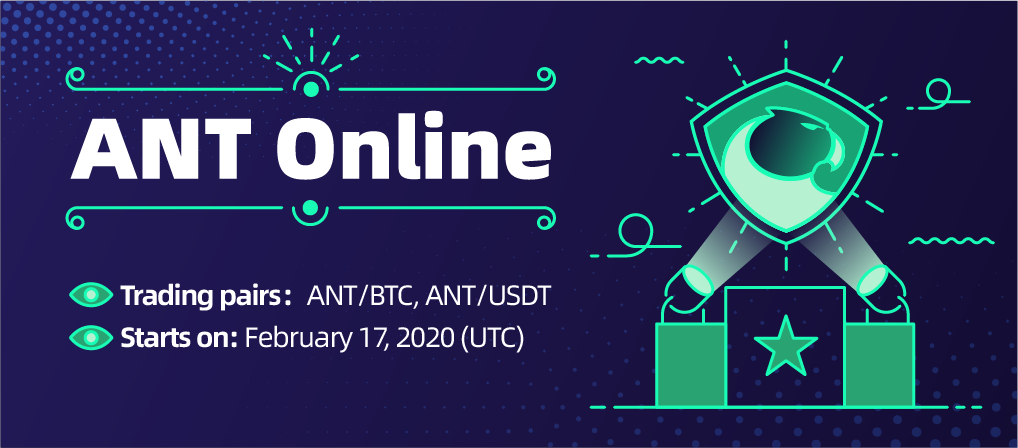 ANT Services
1. Deposit: 3:00 February 17 (UTC)
2. Trading: 3:00 February 18 (UTC)
3. Withdrawal: 3:00 February 18 (UTC)
4. Trading pairs: ANT/USDT, ANT/BTC

CoinEx Team
February 16, 2020

Follow us Facebook | Twitter | Reddit
Contact us Support | Telegram
About us Website | Announcements | APP