Dear CoinEx users,

To provide you with more options in crypto trading, after rigorous reviews, CoinEx is planning to list DAI on March 17, 2020 (UTC). The details are as follows.

About DAI
Website | Explorer | White paper
Dai, developed and managed by MakerDAO, is the largest decentralized stablecoin on Ethereum, and the infrastructure of Decentralized Finance (DeFi). It is issued and guaranteed with a full mortgage of on-chain assets, and maintains a soft peg to the US Dollar, that is, 1 Dai equals to 1 USD. Individuals and enterprises can obtain safe-haven assets and working capital by exchanging or mortgage Dai. Dai has already been applied in scenarios like mortgage loans, margin transactions, international transfers, supply chain finance, etc.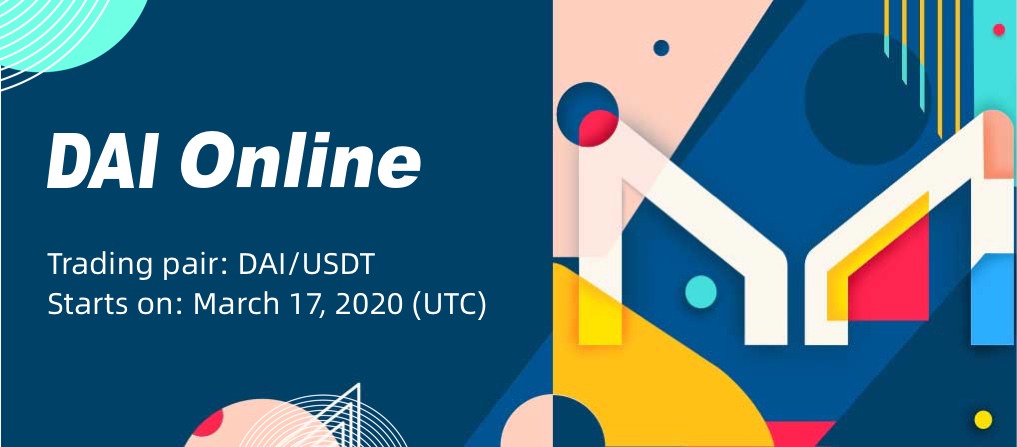 DAI Services
1. Deposit: 3:00 March 17 (UTC)
2. Trading: 3:00 March 18 (UTC)
3. Withdrawal: 3:00 March 18 (UTC)
4. Trading pair: DAI/USDT

CoinEx Team
March 17, 2020

Follow us Facebook | Twitter | Reddit
Contact us Support | Telegram
About us Website | Announcements | APP