Dear CoinEx users,

To provide you with more options in crypto trading, after rigorous reviews, CoinEx is planning to list NRG on March 19, 2020 (UTC). For the celebration of NRG launch, CoinEx will hold the following event.

About NRG
Website | Explorer | White paper
Energi is an encrypted token used worldwide. To achieve this goal, it will establish a self-raised fund and management system to absorb and innovate the state-of-the-art technologies in the blockchain industry, including full smart contract capabilities and unlimited scalability. In addition, by eliminating common entry barriers in this field, Energi is committed to becoming a secure, reliable, user-friendly platform for building and trading value.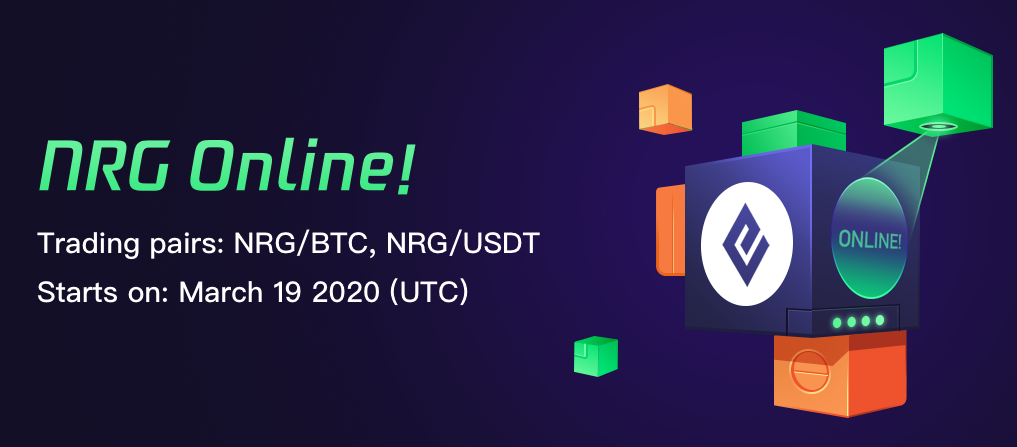 NRG Services
1. Deposit: 3:00 March 19 (UTC)
2. Trading: 3:00 March 25 (UTC)
3. Withdrawal: 3:00 April 2 (UTC)
4. Trading pairs: NRG/BTC, NRG/USDT

Event Details
Duration: 3:00 March 19- 16:00 March 25, 2020 (UTC)
Rules: During the event, CoinEx users with a net deposit of every 200 NRG can get a reward of 100 CET for each (max. 1000 CET/ user). CoinEx will give away 200,000 CET in total on a first-come-first-served basis.

Notes
1. Net Deposit= Deposit - Withdrawal
2. During the event, should any cheating behavior be found, the user will be disqualified.
3. The sub-account is not allowed to participate as an independent account, and the deposit amount of sub-accounts and leveraged accounts is also calculated into the main account.
4. Inter-user transfer is not included in the deposit amount.
5. Reward distribution: Event rewards will be issued within 2 weeks after the event.
6. CoinEx reserves the right of final interpretation of this event.

CoinEx Team
March 19, 2020

Follow us Facebook | Twitter | Reddit
Contact us Support | Telegram
About us Website | Announcements | APP