Dear CoinEx users,

To provide you with more options in crypto trading, after rigorous reviews, CoinEx is planning to list LC and support its deposit on April 13, 2020 (UTC), and LC's trading pair LC/USDT will be available on April 16 (UTC). For the celebration of LC launch, CoinEx will hold the following events.

About LC
Website | Explorer | White paper
Lichang is designed to be a UGC (User-generated Content) platform and community platform centered on public chain mining. It is committed to becoming the top community in the public chain ecology. No Lichang, no public chain. The mission of LC is to empower the public chain ecology, with contribution mining as an entry point to form a co-existed, co-built and mutually beneficial blockchain community for public chain, KOL, users and Dapp. LC, the native token of Lichang, is regarded as the incentives released by the platform, and the utility token acts as the main payment method on Lichang.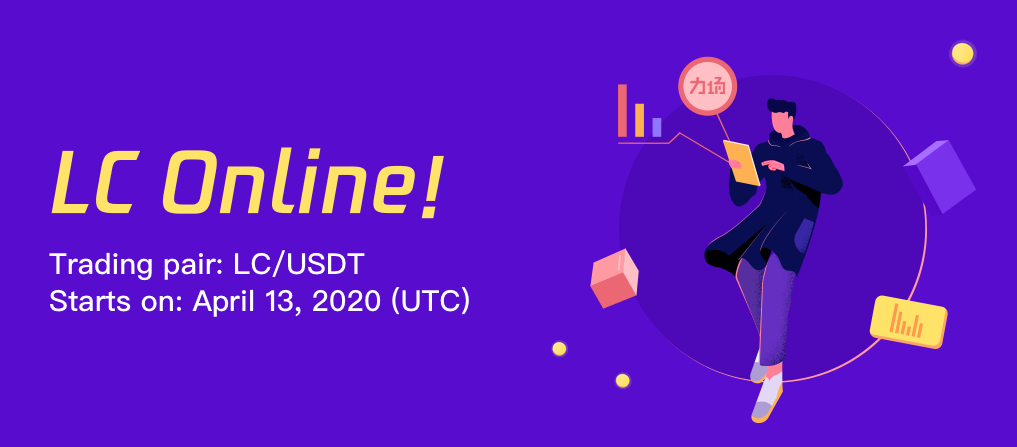 LC Services
1. Deposit: 3:00 April 13 (UTC)
2. Trading: 3:00 April 16 (UTC)
3. Withdrawal: 3:00 April 27 (UTC)
4. Trading pair: LC/USDT

Event 1: Deposit to share 14,500,000 LC
Duration: 3:00 April 13 — 16:00 April 19, 2020 (UTC)
Rules: During the event, CoinEx users with a net deposit of 600,000 LC can participate in the ranking and grab a share of 14,500,000 LC.
1. The top 400 users ranked by the deposit time are qualified to get a reward of 25,000 LC for each.
2. Apart from 25,000 LC for each, the top 20 users ranked by the deposit amount can ALSO get another reward as below.
No.1: 1,200,000 LC
No.2: 1,000,000 LC
No.3: 700,000 LC
No.4 - No.10: Equally share 800,000 LC
No.11 - No.20: Equally share 800,000 LC

Event 2: Trade to share 8,000,000 LC
Duration: 3:00 April 16 — 16:00 April 19, 2020 (UTC)
Rules: During the event, CoinEx users with a net buying (buy - sell) of more than 500,000 LC can participate in the ranking and grab a share of 8,000,000 LC as below.
No.1: 2,000,000 LC
No.2: 1,500,000 LC
No.3: 1,000,000 LC
No.4 - No.10: Equally share 1,000,000 LC
No.11 - No.30: Equally share 1,500,000 LC
No.31 - No.50: Equally share 1,000,000 LC

Event 3: Share the poster to divide 3,500,000 LC
Duration: 3:00 April 13 — 16:00 April 19, 2020 (UTC)
Rules: During the event, CoinEx users who share the poster to their Moments, Weibo @CoinEx or @a friend, Facebook, Twitter or a WeChat group with more than 300 people and scan the QR code on the poster to submit their accounts and related screenshots, can equally share 3,500,000 LC once approved by CoinEx Customer Service.

Notes:
1. Net Deposit= Deposit - Withdrawal; Net Buy= Buy - Sell.
2. During the event, should any cheating behavior be found, the user will be disqualified.
3. The sub-account is not allowed to participate as an independent account, and the deposit amount of sub-accounts and leveraged accounts is also calculated into the main account.
4. Each account enjoys the rewards ONLY ONCE.
5. Inter-user transfer is not included in the deposit amount.
6. Withdrawal will be suspended during the event and resumed after its end.
7. Reward distribution: Event rewards will be issued within 2 weeks after the event.
8. CoinEx reserves the right of final explanation for this event.

CoinEx Team
April 13, 2020

Follow us Facebook | Twitter | Reddit
Contact us Support | Telegram
About us Website | Announcements | APP