Dear CoinEx users,

To provide you with more options in crypto trading, after rigorous reviews, CoinEx is planning to list CHZ and support its deposit on April 23, 2020 (UTC), and CHZ's trading pair CHZ/BTC and CHZ/USDT will be available on April 24 (UTC). The details are as follows.

About CHZ
Website | Explorer | White paper
Chiliz, as the only token used by Socios.com, gives sports and esports fans the ability to crowd-manage their favorite teams, games, leagues, etc. By 2020, we've anticipated a sports & esports landscape that is not only shaped by what games, teams and leagues draw the highest audiences, but by those who can most effectively activate and monetise that audience by putting their fan-base in the driving seat. It's called radical fan engagement. Chiliz provides fans in spots and esports "joint control" right by enabling them to vote on polls, thus they can participate in the team management and decision making.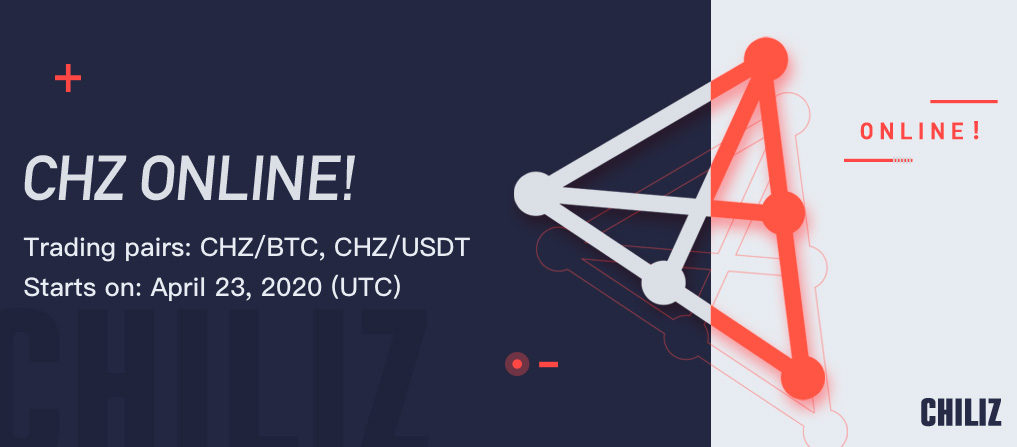 CHZ Services
1. Deposit: April 23 3:00 (UTC)
2. Trading: April 24 3:00 (UTC)
3. Withdrawal: April 24 3:00 (UTC)
4. Trading pairs: CHZ/BTC, CHZ/USDT

CoinEx Team
April 23, 2020

Follow us Facebook | Twitter | Reddit
Contact us Support | Telegram
About us Website | Announcements | APP