Dear CoinEx users,

To provide you with more options in crypto trading, after rigorous reviews, CoinEx is planning to list DGTX and support deposit on May 29, 2020 (UTC). And its trading pair DGTX/BTC and DGTX/USDT will be available from June 1 (UTC). For the celebration of DGTX launch, CoinEx will hold the following events.

About DGTX
Website | Explorer | White paper
Digitex Futures is a Seychelles-based commission-free cryptocurrency futures trading platform. While other major futures trading platforms evolve around Bitcoin, Digitex has developed its own cryptocurrency specific for the platform. Therefore, investors are required own tokens prior to taking part in the trading process, which will allow Digitex to maintain market demand. The DGTX token offers a revolutionary new model of revenue generation, that is, Digitex users pay no commissions. Digitex is the world's first zero-fee futures trading platform with interests aligned to that of its traders. The idea of Digitex futures exchange platform was proposed by Adam Todd, with the aim of competing with major players of crypto-oriented futures trading market.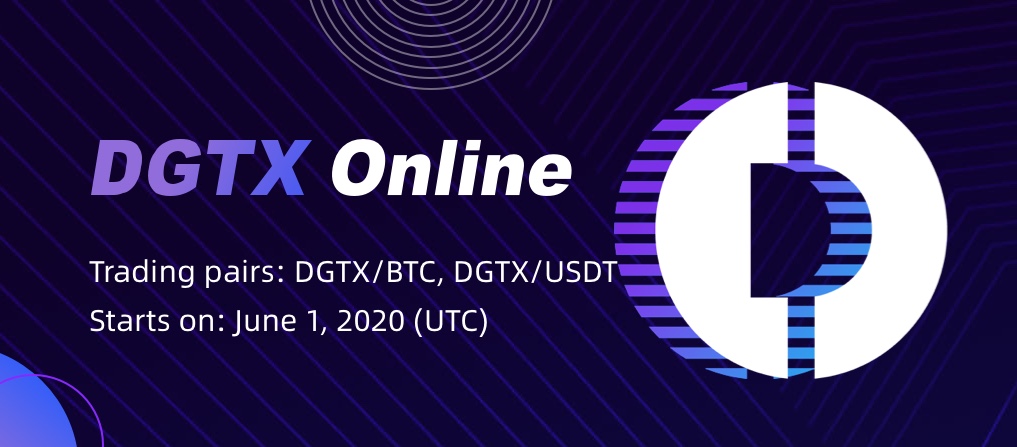 DGTX Services
1. Deposit: 9:00 May 29 (UTC)
2. Withdrawal: 9:00 June 12 (UTC)
3. Trading pair: DGTX/BTC, DGTX/USDT
4. Opening Method: Call Auction
a. Call Auction
13:00-13:50 June 1, 2020 (UTC)
Orders can be placed and cancelled
13:50-14:00 June 1, 2020 (UTC)
Orders can be placed but cannot be cancelled
b. Trading
14:00 June 1, 2020 (UTC)

Event Details

Event 1: Deposit to share 75,000 DGTX
Duration: 9:00 May 29 - 16:00 June 3, 2020 (UTC)
Rules: During the event, CoinEx users with a net deposit of every 3,000 DGTX are qualified for the ranking. The top 300 users ranked by the deposit time can get a reward of 250 DGTX for each.
Deposit now

Event 2: Trade to share 100,000 DGTX
Duration: 14:00 June 1 - 16:00 June 5, 2020 (UTC)
Rules:
a. During the event, CoinEx users with a net buying (buy - sell) of more than 20,000 DGTX can participate in the ranking and grab a share of 65,000 DGTX as below.
No.1: 20,000 DGTX
No.2: 15,000 DGTX
No.3: 10,000 DGTX
No.4 - No.10: Equally share 10,000 DGTX
No.11 - No.20: Equally share 10,000 DGTX
b. During the event, excluding the users involved in the ranking, CoinEx users with a net buying (buy - sell) of over 100 DGTX can share 35,000 DGTX proportionally.

Notes:
1. Net Deposit= Deposit - Withdrawal; Net Buy= Buy - Sell.
2. During the event, should any cheating behavior be found, the user will be disqualified.
3. The sub-account is not allowed to participate as an independent account, and the deposit amount of sub-accounts and leveraged accounts is also calculated into the main account.
4. Inter-user transfer is not included in the deposit amount.
5. Withdrawal will be suspended during the event and resumed after its end.
6. Reward distribution: Event rewards will be issued within 2 weeks after the event.
7. CoinEx reserves the right of final explanation for this event.

CoinEx Team
May 28, 2020

Follow us Facebook | Twitter | Reddit
Contact us Support | Telegram
About us Website | Announcements | APP