Dear CoinEx users,

To provide you with more options in crypto trading, after rigorous reviews, CoinEx is planning to list NPXS and support deposit on June 9, 2020 (UTC). And its trading pairs NPXS/BTC and NPXS/USDT will be available from June 10 (UTC).

About NPXS
Website | Explorer | White paper
Pundi X (NPXS) aims to make the use of cryptocurrency as a form of payment into a reality for retailers and consumers alike. By applying the technology to a series of real world use cases such as cards and the XPOS point-of-sale devices, the team has built products that could accept the NPXS token for goods and services. With the goals of supporting retail intelligence, marketing & loyalty programs as well as inventory & order management systems, the Pundi X Point-of-Sale device could help to support digital commerce worldwide.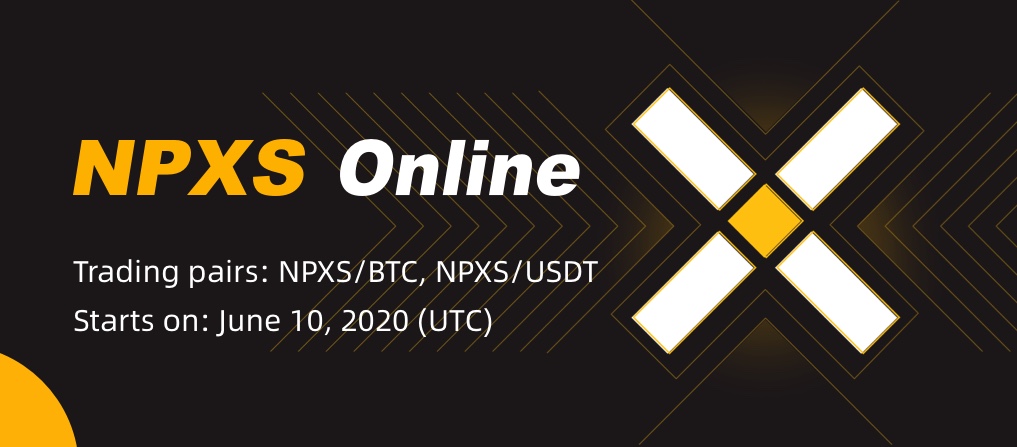 NPXS Services
1. Deposit: 3:00 June 9 (UTC)
2. Withdrawal: 3:00 June 10 (UTC)
3. Trading pairs: NPXS/BTC, NPXS/USDT
4. Opening Method: Call Auction
a. Call Auction
2:00-2:50 June 10, 2020 (UTC)
Orders can be placed and cancelled
2:50-3:00 June 10, 2020 (UTC)
Orders can be placed but cannot be cancelled
b. Trading
3:00 June 10, 2020 (UTC)

CoinEx Team
June 9, 2020

Follow us Facebook | Twitter | Reddit
Contact us Support | Telegram
About us Website | Announcements | APP