Dear CoinEx users,

To provide you with more options in crypto trading, after rigorous reviews, CoinEx is planning to list LEND and support deposit on June 18 (UTC). And its trading pairs LEND/BTC and LEND/USDT will be available from June 19, 2020 (UTC).

About LEND
Website | Explorer | White paper
Aave is a decentralized non-custodial money market protocol where users can participate as depositors or borrowers. Depositors provide liquidity to the market to earn a passive income, while borrowers are able to borrow in an overcollateralized (perpetually) or undercollateralized (one-block liquidity) fashion.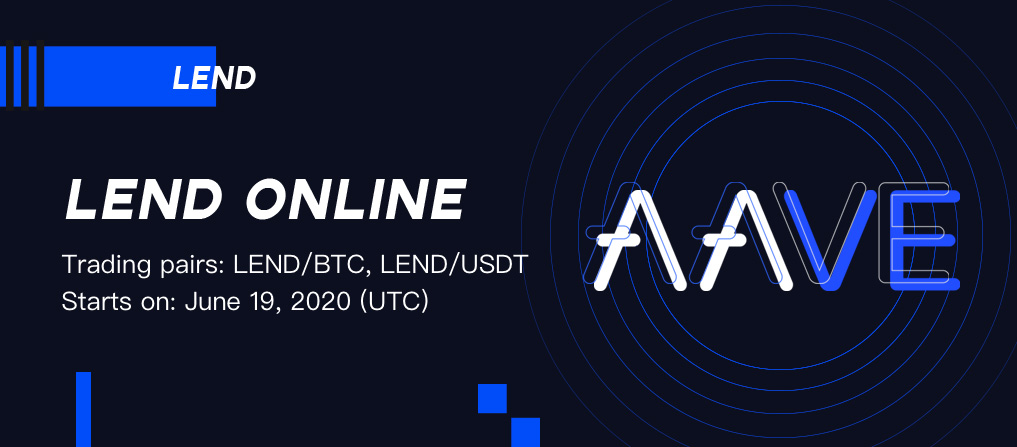 LEND Services
1. Deposit: 3:00 June 18 (UTC)
2. Withdrawal: 3:00 June 19 (UTC)
3. Trading pairs: LEND/BTC, LEND/USDT
4. Opening method: Call Auction
a. Call Auction
2:00-2:50 June 19, 2020 (UTC)
Orders can be placed and cancelled
2:50-3:00 June 19, 2020 (UTC)
Orders can be placed but cannot be cancelled
b. Trading
3:00 June 19, 2020 (UTC)

CoinEx Team
June 18, 2020

Follow us Facebook | Twitter | Reddit
Contact us Support | Telegram
About us Website | Announcements | APP