Dear CoinEx users,

To provide you with more options in crypto trading, after rigorous reviews, CoinEx is planning to list BNT and support deposit on June 19 (UTC). And its trading pairs BNT/BTC and BNT/USDT will be available from June 20, 2020 (UTC).

About BNT
Website | Explorer | White paper
Bancor is an on-chain liquidity protocol that enables automated, decentralized exchange on Ethereum and across blockchains. The protocol is made up of a series of smart contracts that are designed to pool liquidity and perform peer-to-contract trades in a single transaction with no counterparty. Users stake BNT in automated market makers in exchange for trading fees, BNT staking rewards and voting rights in the Bancor DAO. Bancor has processed more than $2 billion in trade volume across thousands of tokens, with millions in fees generated by stakers.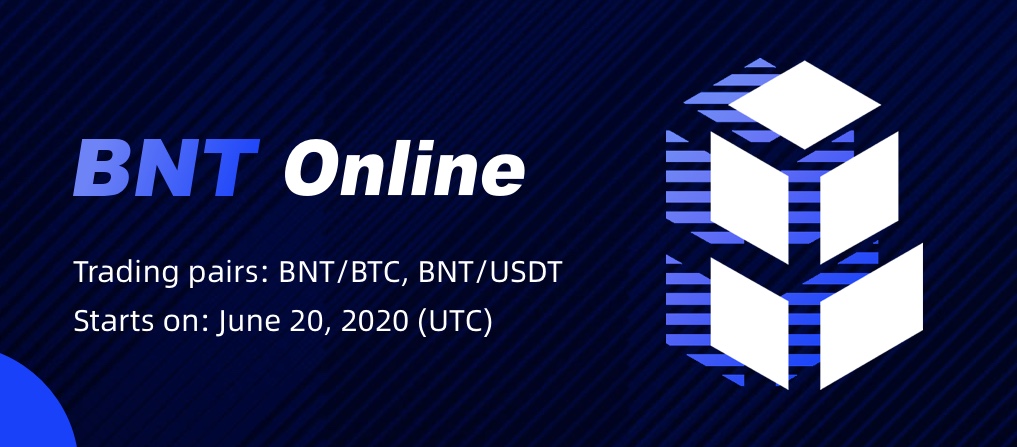 BNT Services
1. Deposit: 3:00 June 19 (UTC)
2. Withdrawal: 3:00 June 20 (UTC)
3. Trading pairs: BNT/BTC, BNT/USDT
4. Opening method: Call Auction
a. Call Auction
2:00-2:50 June 20, 2020 (UTC)
Orders can be placed and cancelled
2:50-3:00 June 20, 2020 (UTC)
Orders can be placed but cannot be cancelled
b. Trading
3:00 June 20, 2020 (UTC)

CoinEx Team
June 19, 2020

Follow us Facebook | Twitter | Reddit
Contact us Support | Telegram
About us Website | Announcements | APP