Dear CoinEx users,

To provide you with more options in crypto trading, after rigorous reviews, CoinEx is planning to list AST, and support its deposit and trading on July 2, 2020 (UTC).

About AST
Website | Explorer | White paper
AirSwap describes itself as a decentralized, peer-to-peer token trading network powered by Ethereum aiming to make the buying and selling of tokens secure, simple, and without fees. Its mission is to empower people with global, frictionless trade. AirSwap implements the Swap protocol and currently has three products: Instant, Spaces, and DexIndex.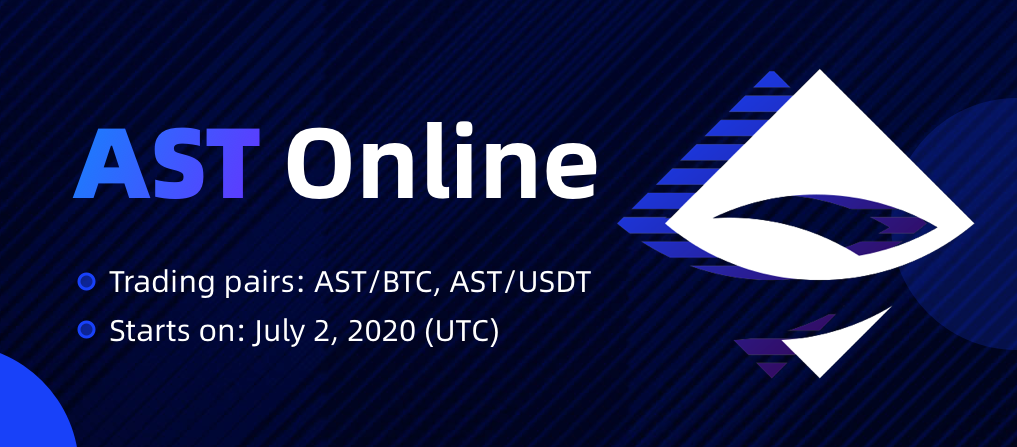 AST Services
1. Deposit: 2:00 July 2 (UTC)
2. Withdrawal: 2:00 July 2 (UTC)
3. Trading pairs: AST/BTC, AST/USDT
4. Opening method: Call Auction
a. Call Auction
8:00-8:50 July 2, 2020 (UTC)
Orders can be placed and cancelled
8:50-9:00 July 2, 2020 (UTC)
Orders can be placed but cannot be cancelled
b. Trading
9:00 July 2, 2020 (UTC)

CoinEx Team
July 2, 2020

Follow us Facebook | Twitter | Reddit
Contact us Support | Telegram
About us Website | Announcements | APP