Dear CoinEx users,

To provide you with more options in crypto trading, after rigorous reviews, CoinEx is planning to list MLN, and support its deposit and trading on July 4, 2020 (UTC).

About MLN
Website | Explorer | White paper
Melon is an Ethereum-based protocol for decentralized on-chain asset management. It is a protocol for people or entities to manage their wealth and the wealth of others within a customizable and safe environment. Melon empowers everyone to set up, manage and invest in customized on-chain investment vehicles.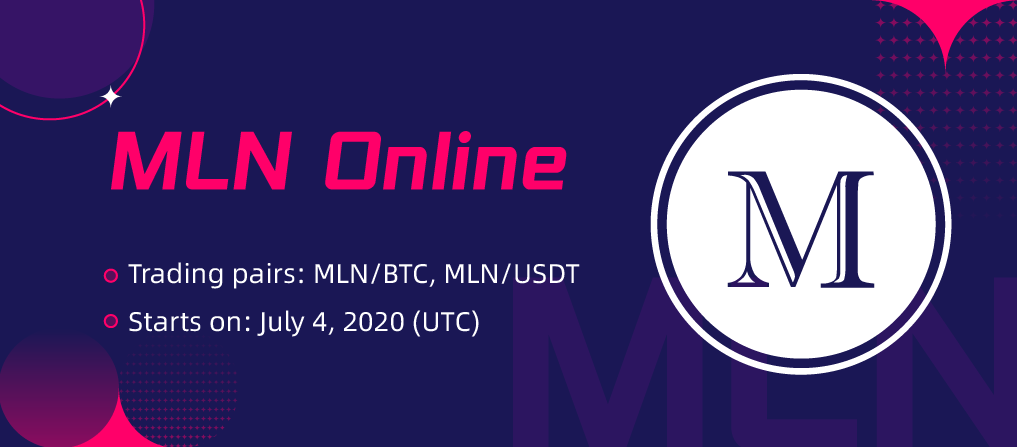 MLN Services
1. Deposit: 2:00 July 4 (UTC)
2. Withdrawal: 2:00 July 4 (UTC)
3. Trading pairs: MLN/BTC, MLN/USDT
4. Opening method: Call Auction
a. Call Auction
8:00-8:50 July 4, 2020 (UTC)
Orders can be placed and cancelled
8:50-9:00 July 4, 2020 (UTC)
Orders can be placed but cannot be cancelled
b. Trading
9:00 July 4, 2020 (UTC)

CoinEx Team
July 4, 2020

Follow us Facebook | Twitter | Reddit
Contact us Support | Telegram
About us Website | Announcements | APP