Dear CoinEx users:

To give back to your long-term support, we will join hands with AYA Team to hold the following events. Rewards worth up to 10,000 USDT are waiting for you!

About AYA | Website | Explorer
Aryacoin is an easy-to-use cryptocurrency supporting cryptographic signature, which enables users to send transactions to nodes directly, thereby ensuring their privacy and maintaining the completeness of data passed during the transactions. Its PoW and cryptographic hash make transaction verification available. And users who verify their transactions with hashrate can get rewards. Aryacoin can be applied to both online exchanges and offline vendors without restrictions to ensure its ecosystem integrity.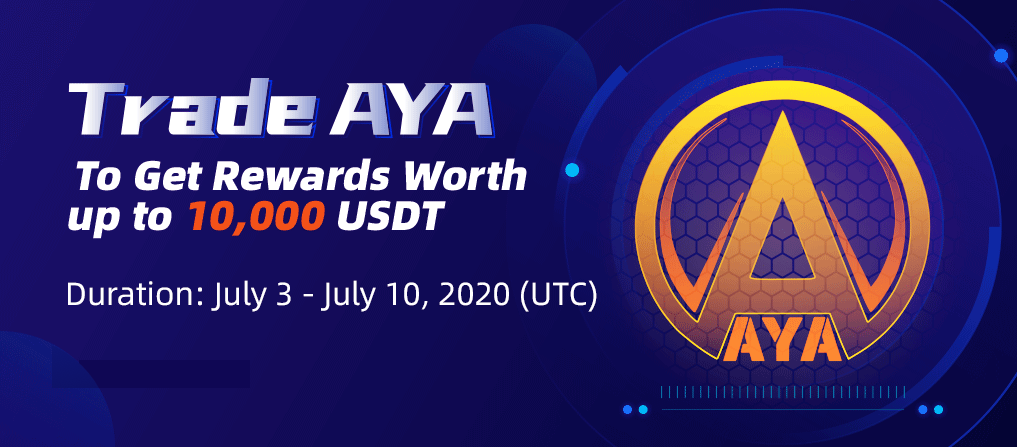 Event 1: Trade to share 8,000 USDT and 170,000 AYA

Duration: 9:00 July 3 — 16:00 July 10, 2020 (UTC)
Rules: During the event, CoinEx users with a net buying (buying - selling) of more than 10,000 AYA can participate in the ranking to get rewards as below.
No.1: 1,500 USDT + 18,000 AYA
No.2: 1,200 USDT + 15,000 AYA
No.3: 1,000 USDT + 12,000 AYA
No.4: 800 USDT + 10,000 AYA
No.5: 650 USDT + 9,000 AYA
No.6: 500 USDT + 8,000 AYA
No.7: 450 USDT + 7,000 AYA
No.8: 400 USDT + 6,500 AYA
No.9: 300 USDT + 6,000 AYA
No.10: 200 USDT + 5,500 AYA
No.11 - No.20: Equally share 1,000 USDT + 28,000 AYA
No.21 - No.30: Equally share 20,000 AYA
No.31 - No.40: Equally share 15,000 AYA
No.41 - No.50: Equally share 10,000 AYA

Event 2: Share the poster to divide up 50,000 AYA

Duration: 2:00 July 3 - 16:00 July 10, 2020 (UTC)
Rules: During the event, CoinEx users who complete the following steps are qualified to share 50,000 AYA equally once approved by CoinEx.
a. Download the poster and save it to your mobile phone album.
b. Share the poster on Facebook mentioning @coinexcom, Twitter mentioning @coinexcom or share it in a Telegram group with over 300 people.
c. Take a screenshot of your sharing.
d. Scan the QR code on the poster, and complete the form by submitting your CoinEx account as well as screenshot of sharing.

Form link:
https://docs.google.com/forms/d/e/1FAIpQLSc2OkGDncNdrQu7tCoVaKFX8LqUpzDmFFE1YkCDchQXSxkAmw/viewform?usp=sf_link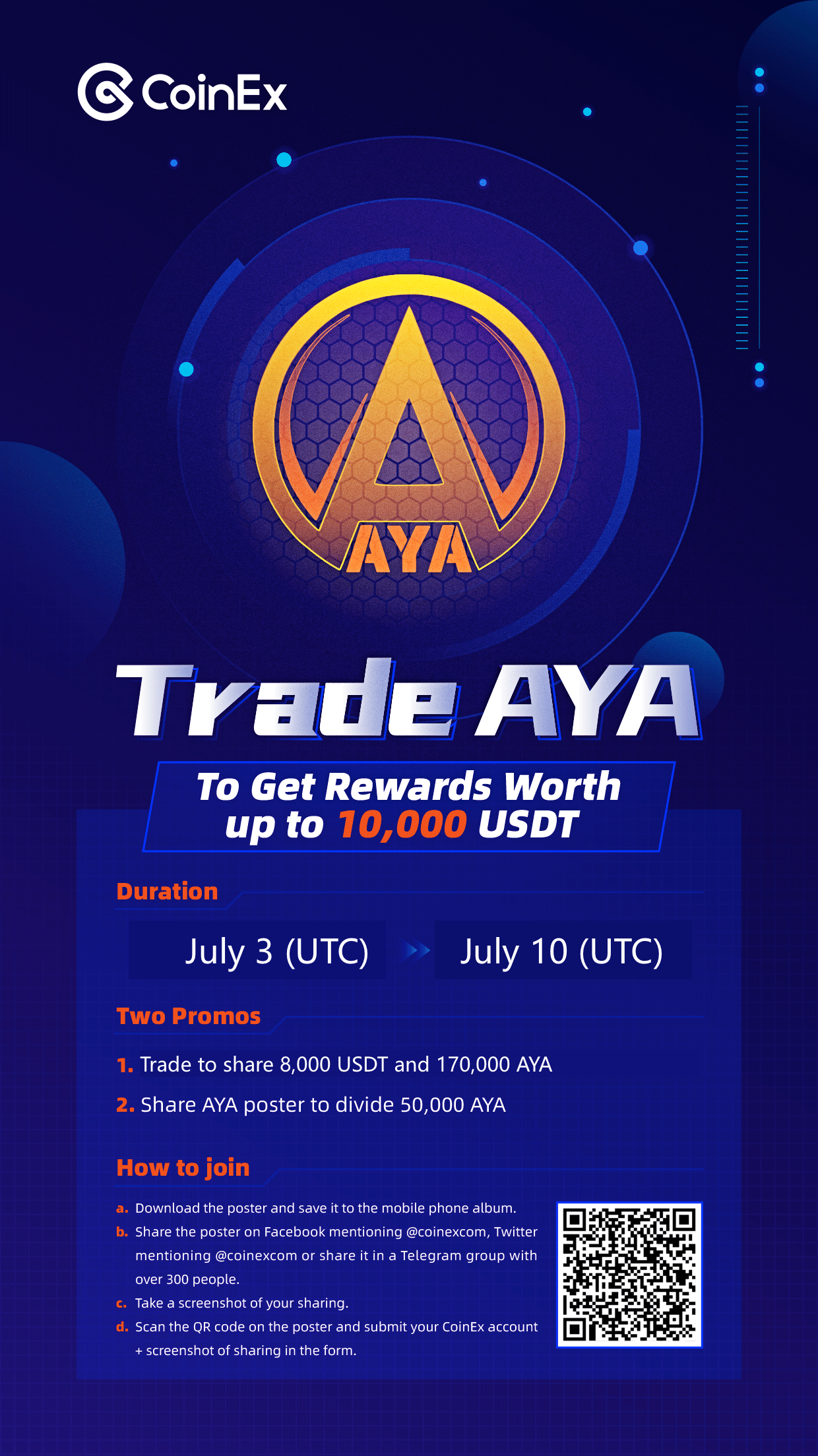 Notes:
1. Net Deposit= Deposit - Withdrawal; Net Buying= Buying - Selling - Withdrawal. During the event, any operation related to Red Packet feature will be deemed as withdrawal.
2. During the event, should any cheating behavior be found, the user will be disqualified.
3. Market makers are NOT included in this event.
4. The sub-account is not allowed to participate as an independent account, and the deposit amount of sub-account and leveraged account is also calculated into the main account.
5. Each account enjoys the rewards only once.
6. Withdrawal will be suspended during the event and resumed after its end.
7. Reward distribution: Event rewards will be issued within 2 weeks after the event.
8. CoinEx reserves the right of final explanation for this event.

CoinEx Team
July 2, 2020

Follow us Facebook | Twitter | Reddit
Contact us Support | Telegram
About us Website | Announcements | APP