Dear CoinEx users,

To provide you with more options in crypto trading, after rigorous reviews, CoinEx is planning to list COMP, and support its deposit and trading on June 29, 2020 (UTC).

About COMP
Website | Explorer | White paper
Compound is a decentralized DeFi protocol for interest rate markets. When users supply ETH to earn interest, they "exchange" it for ETH, which they can exchange back for ETH at any time. This is the case for every token Compound supports. Compound does not touch fiat, derivatives, futures, options, etc. Users can simply supply assets; and borrow assets. This generates interest payments from borrowers to suppliers. The protocol is free to use and openly accessible.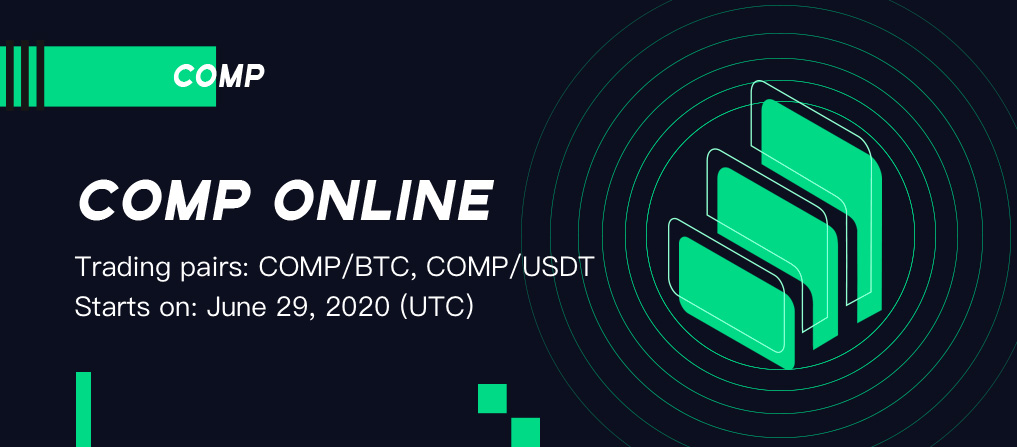 COMP Services
1. Deposit: 7:00 June 29 (UTC)
2. Withdrawal: 7:00 June 29 (UTC)
3. Trading pairs: COMP/BTC, COMP/USDT
4. Opening method: Call Auction
a. Call Auction
8:00-8:50 June 29, 2020 (UTC)
Orders can be placed and cancelled
8:50-9:00 June 29, 2020 (UTC)
Orders can be placed but cannot be cancelled
b. Trading
9:00 June 29, 2020 (UTC)

CoinEx Team
June 29, 2020

Follow us Facebook | Twitter | Reddit
Contact us Support | Telegram
About us Website | Announcements | APP