Dear CoinEx users,

To provide you with more options in crypto trading, after rigorous reviews, CoinEx is planning to list BTS and support deposit on July 14, 2020 (UTC). And its trading pairs BTS/BTC and BTS/USDT will be available from July 17 (UTC). For the celebration of BTS launch, CoinEx will hold the following events.

About BTS
Website | Explorer | White paper
Bitshares (BTS), formerly known as ProtoShares, is a peer-to-peer distributed ledger and network that can issue collateralized market-pegged smart coins known as bitAssets. For instance, it can issue crypto-based assets, denominated by "bitAsset", that track real-world markets like the USD, such as the bitUSD. Each smart coin has at least 100% of its value backed by the BitShares' native currency, the BTS, which can be converted at any time at an exchange rate set by a trustworthy price feed. Bitshares was created by Dan Larimer, the co-founder of EOS, Steemit, and Cryptonomex. BitShares also has its own decentralized exchange.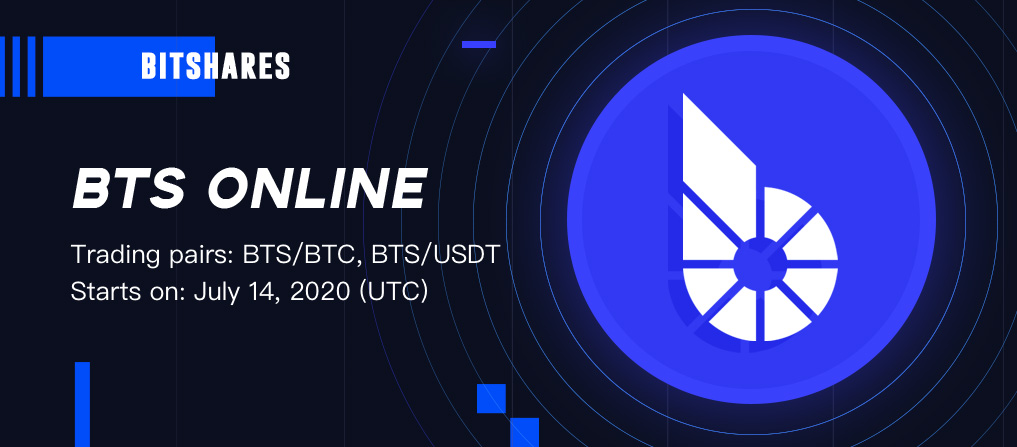 BTS Services
1. Deposit: 3:00 July 14 (UTC)
2. Withdrawal: 3:00 July 24 (UTC)
3. Trading pairs: BTS/BTC, BTS/USDT
4. Opening method: Call Auction
a. Opening Time
2:00-2:50 July 17, 2020 (UTC)
Orders can be placed and cancelled
2:50-3:00 July 17, 2020 (UTC)
Orders can be placed but cannot be cancelled
b. Trading
3:00 July 17, 2020 (UTC)

Event Details
Event 1: Deposit to share 60,000 BTS
Duration: 3:00 July 14 - 16:00 July 20, 2020 (UTC)
Rules:During the event, CoinEx users with a net deposit of 5,000 BTS are qualified for the ranking. The top 200 users ranked by the deposit time can get a reward of 300 BTS for each.

Event 2: Trade to share 40,000 BTS
Duration: 3:00 July 17 - 16:00 July 20, 2020 (UTC)
Rules: During the event, CoinEx users with a net buying (buying - selling) of more than 5,000 BTS can participate in the ranking and grab a share of 40,000 BTS (see below).
No.1: 12,000 BTS
No.2: 8,000 BTS
No.3: 6,000 BTS
No.4 - No.10: Equally share 14,000 BTS

Notes:
1. Net Deposit= Deposit - Withdrawal; Net Buying= Buying - Selling - Withdrawal. During the event, any operation related to Red Packet feature will be deemed as withdrawal.
2. During the event, should any cheating behavior be found, the user will be disqualified.
3. Market making account is not included in this event.
4. The sub-account is not allowed to participate as an independent account, and the deposit amount of sub-account and leveraged account is also calculated into the main account.
5. Inter-user transfer is not included in the deposit amount.
6. Withdrawal will be suspended during the event and resumed after its end.
7. Reward distribution: Event rewards will be issued within 2 weeks after the event.
8. CoinEx reserves the right of final explanation for this event.

CoinEx Team
July 13, 2020

Follow us Facebook | Twitter | Reddit
Contact us Support | Telegram
About us Website | Announcements | APP