Dear CoinEx users,

To provide you with more trading options, after rigorous reviews, CoinEx will list BAL and support deposit on July 30, 2020 (UTC). And its trading pairs BAL/BTC, BAL/USDT, BAL/ETH will be available on the same day.

About BAL
Website | Explorer | White paper
Balancer is an automated portfolio manager, liquidity provider, and price sensor. Balancer turns the concept of an index fund on its head: instead of a paying fees to portfolio managers to rebalance your portfolio, you collect fees from traders, who rebalance your portfolio by following arbitrage opportunities. Balancer is based on an N-dimensional invariant surface which is a generalization of the constant product formula described by Vitalik Buterin and proven viable by the popular Uniswap dapp.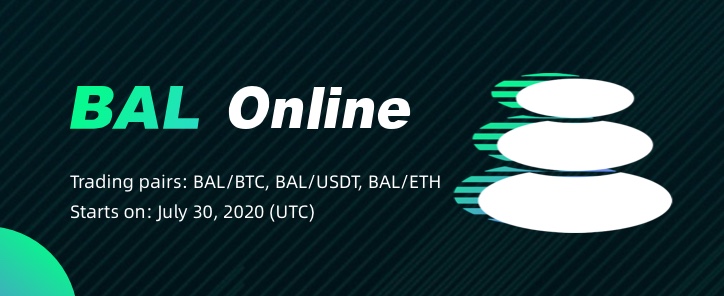 BAL Services
1. Deposit: 2:00 July 30 (UTC)
2. Withdrawal: 2:00 July 30 (UTC)
3. Trading pairs: BAL/BTC, BAL/USDT, BAL/ETH
4. Opening method: Call Auction
a. Call Auction
8:00-8:50 July 30, 2020 (UTC)
Orders can be placed and cancelled
8:50-9:00 July 30, 2020 (UTC)
Orders can be placed but cannot be cancelled
b. Trading
9:00 July 30, 2020 (UTC)

CoinEx Team
July 29, 2020

Follow us Facebook | Twitter | Reddit
Contact us Support | Telegram
About us Website | Announcements | APP