Dear CoinEx users,

To provide you with more trading options, after rigorous reviews, CoinEx will list WNXM and support deposit on August 13, 2020 (UTC). And its trading pairs WNXM/BTC, WNXM/USDT, WNXM/ETH will be available on the same day.

About WNXM
Website | Explorer | White paper
Nexus Mutual is a decentralized alternative to insurance. Its Team used blockchain technology to create a mutual model (a risk sharing pool) to return the power of insurance to the people. The platform is built on the Ethereum public chain. It allows anyone to become a member and buy coverage. It replaces the idea of a traditional insurance company, because it is wholly owned by the members. The model encourages engagement as members will get economic incentives for participating in Risk Assessment, Claims Assessment and Governance.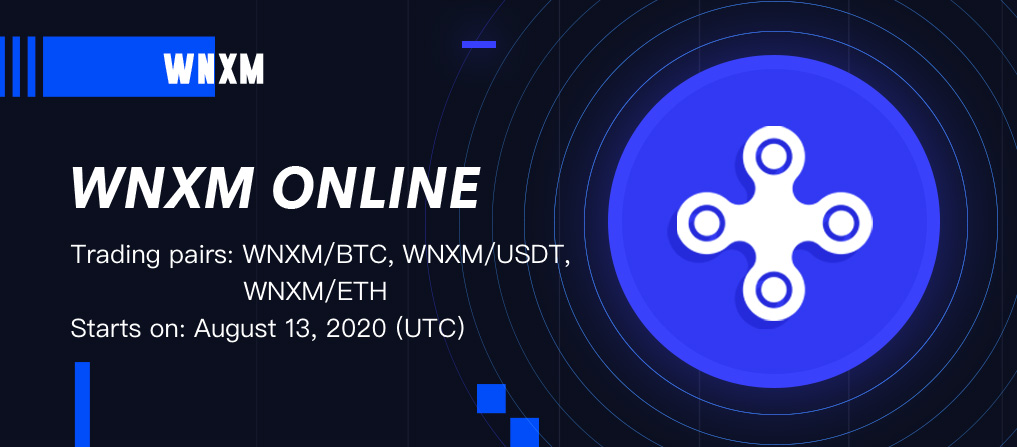 WNXM Services
1. Deposit: 2:00 August 13 (UTC)
2. Withdrawal: 2:00 August 13 (UTC)
3. Trading pairs: WNXM/BTC, WNXM/USDT, WNXM/ETH
4. Opening method: Call Auction
a. Call Auction
8:00-8:50 August 13, 2020 (UTC)
Orders can be placed and cancelled
8:50-9:00 August 13, 2020 (UTC)
Orders can be placed but cannot be cancelled
b. Trading
9:00 August 13, 2020 (UTC)

CoinEx Team
August 12, 2020

Follow us Facebook | Twitter | Reddit
Contact us Support | Telegram
About us Website | Announcements | APP