Dear CoinEx users,

To provide you with more trading options, after rigorous reviews, CoinEx will list PNK and support deposit on August 13, 2020 (UTC). And its trading pairs PNK/BTC, PNK/USDT, PNK/ETH will be available on the same day.

About PNK
Website | Explorer | White paper
Kleros is an open source online dispute resolution protocol which uses blockchain and crowdsourcing to fairly adjudicate disputes. Development efforts are coordinated by Coopérative Kleros, a Société Coopérative d'Intérêt Collectif (SCIC) incorporated in France. All its research and code development are open source and free for anyone to use.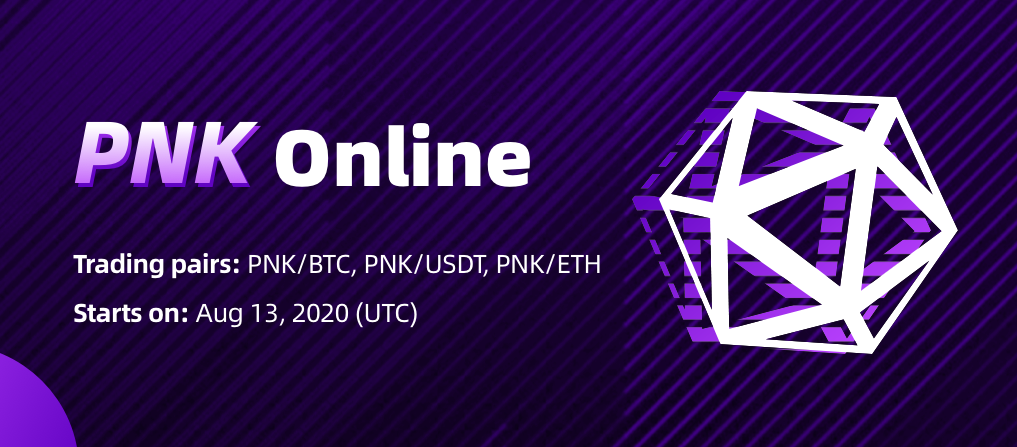 PNK Services
1. Deposit: 6:00 August 13 (UTC)
2. Withdrawal: 6:00 August 13 (UTC)
3. Trading pairs: PNK/BTC, PNK/USDT, PNK/ETH
4. Opening method: Call Auction
a. Call Auction
9:00-9:50 August 13, 2020 (UTC)
Orders can be placed and cancelled
9:50-10:00 August 13, 2020 (UTC)
Orders can be placed but cannot be cancelled
b. Trading
10:00 August 13, 2020 (UTC)

CoinEx Team
August 13, 2020

Follow us Facebook | Twitter | Reddit
Contact us Support | Telegram
About us Website | Announcements | APP