Dear CoinEx users,

To provide you with more trading options, after rigorous reviews, CoinEx will list GEN and support deposit on August 14, 2020 (UTC). And its trading pairs GEN/BTC, GEN/USDT, GEN/ETH will be available on the same day.

About GEN
Website | Explorer | White paper
DAOstack is an open-source software stack designed to support a global collaborative network. The stack can be used to build organizations for any kind of collective work, and it also contains tools to link these organizations together, so as the network grows, all its member organizations are strengthened.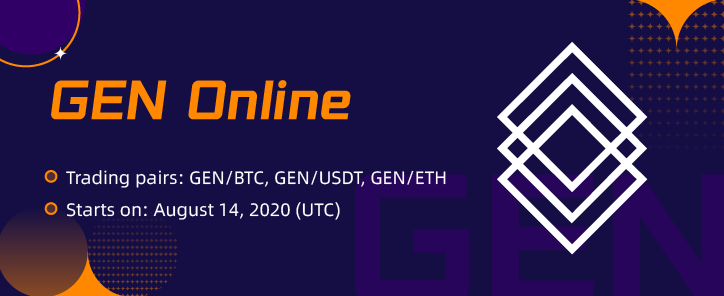 GEN Services
1. Deposit: 2:00 August 14 (UTC)
2. Withdrawal: 2:00 August 14 (UTC)
3. Trading pairs: GEN/BTC, GEN/USDT, GEN/ETH
4. Opening method: Call Auction
a. Call Auction
8:00-8:50 August 14, 2020 (UTC)
Orders can be placed and cancelled
8:50-9:00 August 14, 2020 (UTC)
Orders can be placed but cannot be cancelled
b. Trading
9:00 August 14, 2020 (UTC)

CoinEx Team
August 13, 2020

Follow us Facebook | Twitter | Reddit
Contact us Support | Telegram
About us Website | Announcements | APP