Dear CoinEx users,

To provide you with more options in crypto trading, after rigorous reviews, CoinEx is planning to list RING, KTON and support their deposit on September 4, 2020 (UTC). And trading pairs RING/USDT, KTON/USDT will be available from the same day. For the celebration of RING and KTON launch, CoinEx will hold the following events.

About RING
Website | Explorer
Darwinia Network is a decentralized heterogeneous cross-chain bridge protocol built on Substrate, focusing on decentralized cross-chain token swap, exchange, and market. Darwinia also serves as critical infrastructure for single-chain application upgrade to cross-chain version, including Defi, Game, DEX, NFT market, etc. Its vision is to build the future Internet of Tokens.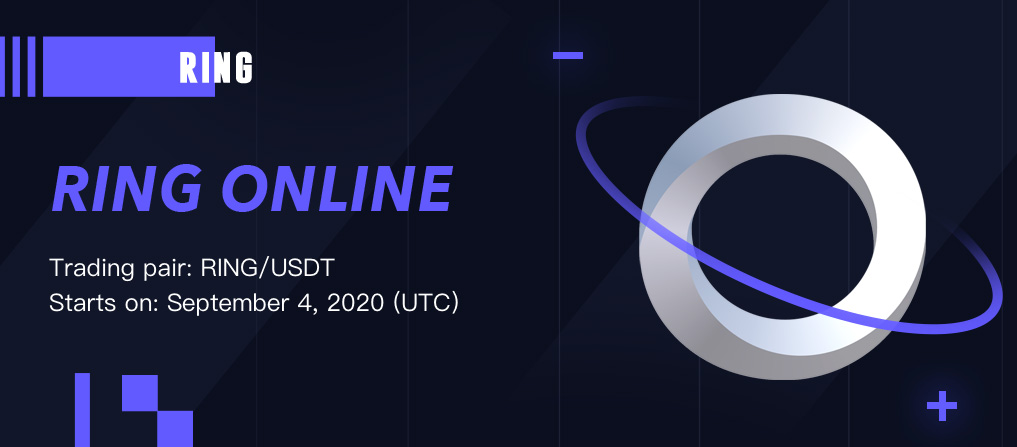 About KTON
Website | Explorer
In essence, KTON is a derivative token of RING which encourages long-term commitment. RING staking participants can lock RING for 3–36 months and get KTON as rewards, compensating for the liquidity loss.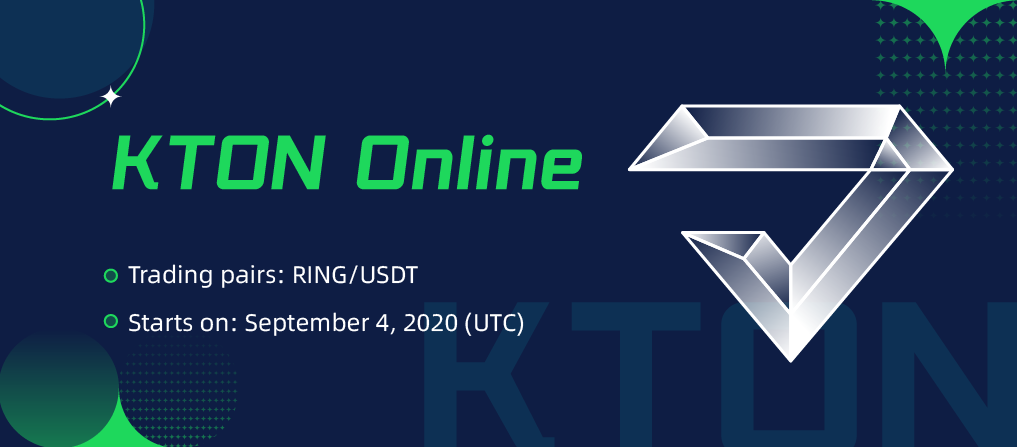 RING & KTON Services
1. Deposit: 2:00 September 4 (UTC)
2. Withdrawal: 2:00 September 16 (UTC)
3. Trading pairs: RING/USDT, KTON/USDT
4. Opening method: Call Auction
a. Call Auction
8:00-8:50 September 4, 2020 (UTC)
Orders can be placed and cancelled
8:50-9:00 September 4, 2020 (UTC)
Orders can be placed but cannot be cancelled
b. Trading
9:00 September 4, 2020 (UTC)

Event 1: Deposit to share RING & KTON worth 8,000 USDT
Duration: 2:00 September 4 - 16:00 September 8, 2020 (UTC)
Rules:
1. During the event, CoinEx users with a deposit of every 100 RING can get 1 RING as a reward for each (max. 100 RING/ user). CoinEx will give away 25,000 RING in total on a first-come-first-served basis.
2. During the event, CoinEx users with a deposit of every 1 KTON can get 0.01 KTON as a reward for each (max. 0.05 KTON/ user). CoinEx will give away 12 KTON in total on a first-come-first-served basis.

Event 2: Trade to share RING & KTON worth 2,000 USDT
1. Duration: 16:00 September 3 - 16:00 September 8, 2020 (UTC)
2. Qualified participants: CET holders who conduct trading related to RING or KTON during the event will be regarded as qualified participants and have chance to join the lucky draw.
3. Drawing time: 4:00 September 7, 2020 (UTC) & 4:00 September 8, 2020 (UTC)
4. Rules: Rewards will be divided into two levels. Firstly, CoinEx will allocate RING worth 50 USDT and KTON worth 50 USDT to 10 winners each day. Secondly, RING worth 1,000 USDT and KTON worth 1,000 USDT will be given to 20 super winners.

How to draw winners and airdrop reward?
(1) Take the hash value of last ETH block before 4:00 (UTC) on the draw day (including 4:00) as the winning sequence of that day.
(2) Filter the letters from the end of the hash value, and take the last 20 digits to get the winning sequence of that day.
(3) During the event, the user's net buying volume of RING or KTON will be converted into USDT for ranking.
(4) Match the transaction ranking with the winning sequence. Take a single non-zero number in the first three digits as the winning number (if the selected number is 0, then skip to the next one digit), and the subsequent seven two-digit numbers are taken as the winning number. Participants who matched the ranking will be winners and get relevant reward through airdrop.
(5) For example:
a. Assume that the hash value of the last specified block before 4:00:00, September 7, 2020 (UTC)
is:0x95519f40a75c3f46d0426d5db908458b3d056b929d02b536c1c6d431ec94f093
b. Filter the letters from the end of the value to get a string of numbers:
09551940753f46042659084583056929025361643194093
c. Keep the last 20 digits to get the winning sequence of the day: 56929025361643194093
The winning numbers are: 5, 6, 9, 29, 02, 53, 61, 64, 31, 94, then user whose ranking is 5, 6, 9, 29, 02, 53, 61, 64, 31, 94 will be selected as winners and get RING worth 50 USDT and KTON worth 50USDT per person through airdrop.

Notes:
1. Net Deposit= Deposit - Withdrawal; Net Buying= Buying - Selling - Withdrawal. During the event, any operation related to Red Packet feature will be deemed as withdrawal.
2. During the event, should any cheating behavior be found, the user will be disqualified.
3. Market making account is not included in this event.
4. The sub-account is not allowed to participate as an independent account, and the deposit amount of sub-account and leveraged account is also calculated into the main account.
5. Inter-user transfer is not included in the deposit amount.
6. Withdrawal will be suspended during the event and resumed after its end.
7. Reward distribution: Event rewards will be issued within 2 weeks after the event. Every account can only get reward ONCE per day.
8. CoinEx reserves the right of final interpretation of these events.

CoinEx Team
September 3, 2020

Follow us Facebook | Twitter | Reddit
Contact us Support | Telegram
About us Website | Announcements | APP