Dear CoinEx users,

We will join hands with Aryacoin (AYA) to hold an AYA net buying event. During this period, qualified users who buy AYA can get chance to share 5,000 USDT.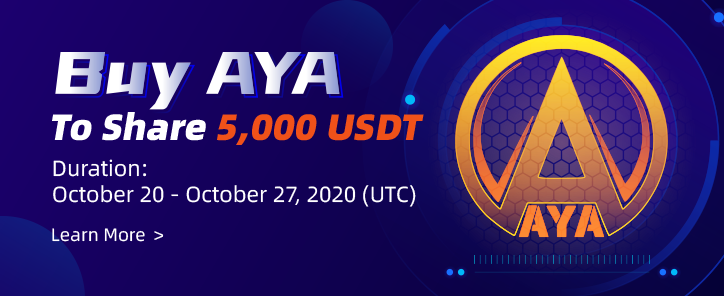 About AYA:
Website | Explorer
Aryacoin (AYA) is a potential, community-driven cryptocurrency using dPow for security, insisting on the original idea of digital asset. It is also easy-to-use and users' privacy guaranteed. Its PoW and cryptographic hash make transaction verification available. And users who verify their transactions with computing power can get rewards. AYA can be applied to both online exchanges and offline vendors without restrictions. With cryptographic signature support, users are able to send transactions to nodes directly, thereby ensuring their privacy and maintaining the integrity of data passed during the transactions.

Duration:
0:00 October 20 - 0:00 October 27, 2020 (UTC)

Applicable to:
Users with VIP Level higher than 0 OR have conducted trading on CoinEx within the past half a year ( from April 20, 2020 to October 19, 2020) can join this event. We have taken a snapshot at 01:00 on October 19, 2020 (UTC). If you have met one of these two conditions, you're qualified to participate. You can click HERE to check your real-time ranking of this event.

How to join:
During the event, qualified users with a net buying (total buying - total selling) of more than 100 AYA can participate in the ranking. The specific rewards are shown as below.


| | | |
| --- | --- | --- |
| No. | Reward per user (USDT) | Total rewards (USDT) |
| 1 | 250 | 250 |
| 2 | 150 | 150 |
| 3~5 | 100 | 300 |
| 6-10 | 60 | 300 |
| 11-20 | 40 | 400 |
| 21-100 | 20 | 1600 |
| 101-300 | 10 | 2000 |

Notes:
1. Net Buying= Total Buying - Total Selling.
2. During the event, should any cheating behavior be found, the user will be disqualified.
3. Market making account is not included in this event.
4. The sub-account is not allowed to participate as an independent account, and the deposit amount of sub-account and leveraged account is also calculated into the main account.
5. Withdrawal will be suspended during the event and resumed after its end.
6. Reward distribution: Event rewards will be issued within 1 day after the event.
7. CoinEx reserves the right of final interpretation of this event.

CoinEx Team
October 19, 2020

Follow us Facebook | Twitter | Reddit
Contact us Support | Telegram
About us Website | Announcements | APP