Dear CoinEx users,

To provide you with more trading options, after rigorous reviews, CoinEx listed PIVX and supported deposit on November 19, 2020 (UTC). And its trading pairs PIVX/BTC, PIVX/USDT have been available on the same day.

About PIVX
Website丨Explorer丨White paper
PIVX describes itself as 'a pioneer in Proof of Stake (PoS) technology and an MIT licensed, open-source, decentralized blockchain-based cryptocurrency focused on achieving fungibility, transaction privacy, community governance, network scalability, and real-world utilization. It aims to become one of the most technically advanced globally-accepted online digital currencies. The team is currently working on a new Privacy Protocol.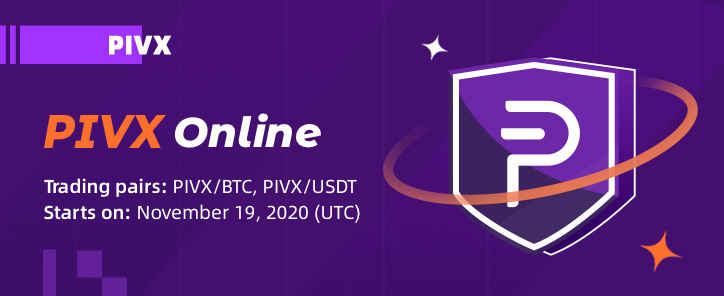 PIVX Services
1. Deposit: 9:00 November 19 (UTC)
2. Withdrawal: 9:00 November 19 (UTC)
3. Trading pairs: PIVX/BTC, PIVX/USDT
4. Opening method: Call Auction
a. Call Auction
8:00-8:50 November 20, 2020 (UTC)
Orders can be placed and cancelled
8:50-9:00 November 20, 2020 (UTC)
Orders can be placed but cannot be cancelled
b. Trading
9:00 November 20, 2020 (UTC)

CoinEx Team
November 19, 2020

Follow us Facebook | Twitter | Reddit
Contact us Support | Telegram
About us Website | Announcements | APP