Dear CoinEx users,

To provide you with more trading options, after rigorous reviews, CoinEx will list XDAG and support deposit on November 26, 2020 (UTC). And its trading pairs XDAG/USDT will be available on the same day.

About XDAG
Website丨Explorer丨White paper
Dagger (token XDAG) is a new crypto currency, which is not based on the blockchain, but on an directed acyclic graph (DAG) instead and, unlike other DAG-oriented coins, allows mining.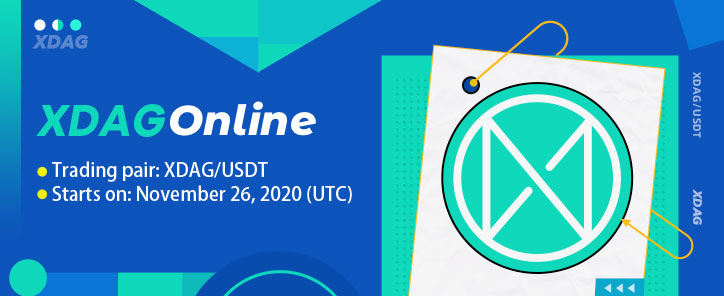 XDAG Services
1. Deposit: 8:00 November 26 (UTC)
2. Withdrawal: 8:00 November 26 (UTC)
3. Trading pairs: XDAG/USDT
4. Opening method: Call Auction
a. Call Auction
8:00-8:50 November 27, 2020 (UTC)
Orders can be placed and cancelled
8:50-9:00 November 27, 2020 (UTC)
Orders can be placed but cannot be cancelled
b. Trading
9:00 November 27, 2020 (UTC)

CoinEx Team
November 26, 2020

Follow us Facebook | Twitter | Reddit
Contact us Support | Telegram
About us Website | Announcements | APP