Dear CoinEx users,

To celebrate our third birthday and give back to your support and trust, we will hold an exclusive celebration with a big reward of 100,000 USD in total. The details are as follows.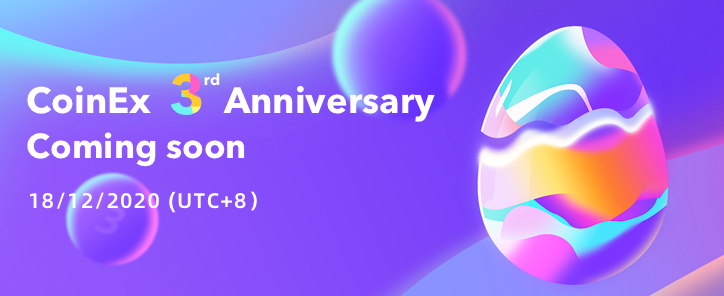 Event 1: C Hello, Check Your Three-Year Bill
Time: 8:00 December 18, 2020 (UTC)
Rule: Go to "CoinEx 3rd Anniversary Celebration" page and sign in, then you can view and share your three-year bill. Click to generate My CoinEx Three-Year Bill.

Event 2: First Try Perpetual Trading, Get 10 USDT
Duration: 0:00 December 19, 2020 - 0:00 January 1, 2021 (UTC)
Applicable to: Users who register for CoinEx before 0:00 on December 18, 2020 (UTC), have a cumulative trading volume of more than 100 USD and have never conducted Perpetual trading are qualified to participate in this event.
Rule: During the event, if you trade in any perpetual market and have a cumulative trading volume of 500 contracts or above, you can get 10 USDT as a reward. Click HERE to join.
Notes:
1. Perpetual market making accounts and special fees accounts are not qualified to join this event.
2. Sub-accounts are not allowed to participate in as independent accounts, and the trading volume of sub-accounts will be calculated into main accounts.
3. The cumulative trading volume will be updated every 10 minutes, and event reward will be automatically allocated to your spot account within 1 hour if your trading volume reached the standard.
4. CoinEx reserves the final interpretation of this event.

Event 3: Complete Task, Win up to 0.1 BTC
Duration: 0:00 December 21, 2020 - 0:00 January 1, 2021 (UTC)
Rule: During the event, you can get 1 lucky draw chance to win up to 0.1 BTC by completing 1 task. Click HERE to join. The tasks are as follows:
Task

Details

Prizes

1

Task 1: Download the latest CoinEx App and complete the login



After completing 1 task, you can get 1 lucky draw chance to win the following prizes. 100% winning!

0.1 BTC, 1 ETH, 1 BCH, 100 USDT, 50 USDT, 20 USDT, 1,000 CET, 500 CET, 100 CET, 10 CET, 30-day VIP 3, 30-day VIP 1, etc.

2

Task 2: Invite friend to register and (friend) conduct 1 transaction on CoinEx

3

Task 3: Complete 1 margin borrowing (no token limit)

4

Task 4: Obtain any financial earnings (no token limit)

5

Task 5: Conduct Spot/ Margin trading & cumulative volume exceeds 5,000 USD

6

Task 6: Conduct Perpetual trading & cumulative volume exceeds 50,000 contracts
Notes:
1. Perpetual market making accounts and special fees accounts are not qualified to join this event.
2. Sub-accounts are not allowed to participate in as independent accounts, and the trading volume of sub-accounts will be calculated into main accounts.
3. By completing the corresponding tasks, you can win up to 6 lucky draw chances. Your task status will be updated within 1 hour. Click "Test Luck" to join the lucky draw, 100% winning!
4. The prize will be automatically allocated to your account if you won the lucky draw.
5. CoinEx reserves the final interpretation of this event.

CoinEx reserves the final interpretation of this announcement.

CoinEx Team
December 18, 2020

Follow us Facebook | Twitter | Reddit
Contact us Support | Telegram
About us Website | Announcements | APP