Dear CoinEx users,

To provide you with more trading options, after rigorous reviews, CoinEx will list OCEAN and support deposit on January 5, 2021 (UTC). And its trading pair OCEAN/USDT will be available on the same day.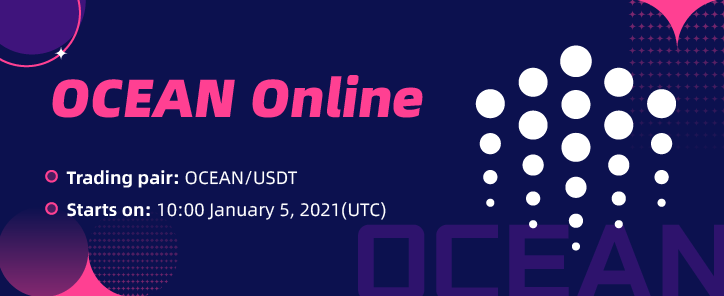 About OCEAN
Website丨Explorer丨White paper
Ocean Protocol is a blockchain-based ecosystem that allows individuals and businesses to easily unlock the value of their data and monetize it through the use of ERC-20 based datatokens.
Through Ocean Protocol, publishers can monetize their data while preserving privacy and control, whereas consumers can now access datasets that were previously unavailable or difficult to find. These datasets can be discovered on the Ocean Market, where they can be purchased and later consumed or sold.

OCEAN Services
1. Deposit: 07:00 January 5 (UTC)
2. Withdrawal: 07:00 January 5 (UTC)
3. Trading pairs: OCEAN/USDT
4. Opening method: Call Auction
a. Call Auction
09:00-09:50 January 5, 2021 (UTC)
Orders can be placed and cancelled
09:50-10:00 January 5, 2021 (UTC)
Orders can be placed but cannot be cancelled
b. Trading
10:00 January 5, 2021 (UTC)

CoinEx Team
January 5, 2021

Follow us Facebook | Twitter | Reddit
Contact us Support | Telegram
About us Website | Announcements | APP