Dear CoinEx users,

To provide you with more trading options, after rigorous reviews, CoinEx will list KEEP and REVV and support deposit on January 25, 2021 (UTC). And its trading pairs KEEP/USDT, REVV/USDT, will be available on the same day.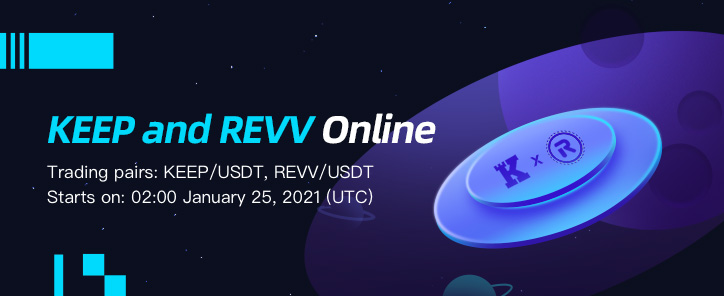 About KEEP
Website丨Explorer
Keep is an incentivized network for storing and encrypting private data on the public blockchain. The network is made of off-chain containers for private data known as keeps, while the KEEP work token enables it to be completely permissionless. Keep solves the main problem holding back blockchain adoption: that data on public blockchains are public. With Keep, developers can finally build fully decentralized apps. Visit Keep to learn more and stake, and tBTC to see its power in action.

About REVV
Website丨Explorer
REVV is the main utility token and in-game currency for branded motorsports blockchain game titles produced by Animoca Brands, such as the F1® Delta Time blockchain game platform, and a title based on the MotoGP™ motorsport intellectual property, releasing in Q4 of 2020. A third racing game project will be announced in the near future.

KEEP and REVV Services
1. Deposit: 2:00 January 25 (UTC)
2. Withdrawal: 2:00 January 25 (UTC)
3. Trading pairs: KEEP/USDT, REVV/USDT
4. Opening method: Call Auction
a. Call Auction
2:30-3:20 January 25, 2021 (UTC)
Orders can be placed and cancelled
3:20-3:30 January 25, 2021 (UTC)
Orders can be placed but cannot be cancelled
b. Trading
3:30 January 25, 2021 (UTC)

CoinEx Team
January 22, 2021

Follow us Facebook | Twitter | Reddit
Contact us Support | Telegram
About us Website | Announcements | APP