Dear CoinEx users,

To provide more trading options, after rigorous reviews, CoinEx will list CRO at 8:00 on February 1, 2021 (UTC). And its trading pair CRO/USDT, will be available on the same day.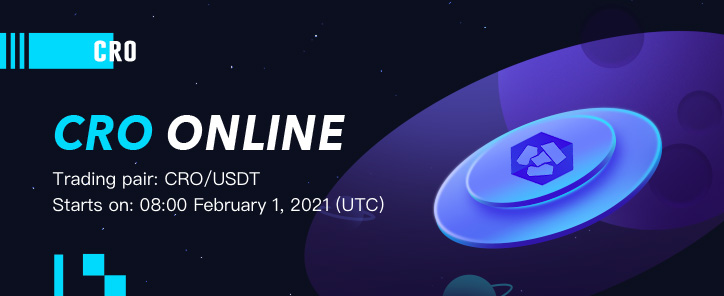 About CRO
Website丨Explorer丨White paper
Crypto.com Coin (CRO) is the native cryptocurrency token of Crypto.com Chain — a decentralized, open-source blockchain developed by the Crypto.com payment, trading and financial services company.
Crypto.com Chain is one of the products in Crypto.com's lineup of solutions designed to accelerate the global adoption of cryptocurrencies as a means of increasing personal control over money, safeguarding user data and protecting users' identities. The CRO blockchain serves primarily as a vehicle that powers the Crypto.com Pay mobile payments app.

CRO Services
1. Deposit: 8:00 February 1 (UTC)
2. Withdrawal: 8:00 February 1 (UTC)
3. Trading pairs: CRO/USDT
4. Opening method: Call Auction
a. Call Auction
9:00-9:50 February 1, 2021 (UTC)
Orders can be placed and cancelled
9:50-10:00 February 1, 2021 (UTC)
Orders can be placed but cannot be cancelled
b. Trading
10:00 February 1, 2021 (UTC)

CoinEx Team
February 1, 2021

Follow us Facebook | Twitter | Reddit
Contact us Support | Telegram
About us Website | Announcements | APP