Dear CoinEx users:
To celebrate the 4th Anniversary and give back to users around the world for your support and trust in CoinEx, we will be hosting a theme event of "CoinEx 4th Anniversary · Together 4Ever", where all users can receive a gift by unlocking and reading annual reports. In total, there will be 10,000,000 CET and more bonus for every single one of our users! The details are as followed: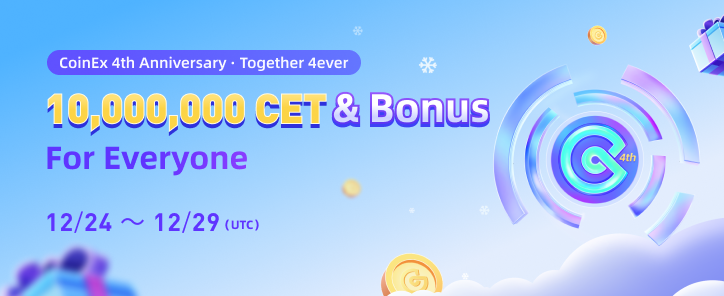 Entrance
https://www.coinex.com/activity/anniversary
Duration
0:00 24/12/2021 - 0:00 29/12/2021 (UTC)
Procedures
1. Sign Up or Log In to your CoinEx account during the event.
2. Grant access to "Unlock Report" and review your moments on the Theme Page.
3. Accept the Gift exclusively prepared for you.
Notes
1. Requirement: The statistics of sub accounts will be included in the Main accounts and they will not be counted as independent accounts for the event.
2. Allocation: After accepting, the anniversary gift will be allocated to your account immediately. Please refer to the page prompt for the specific distribution location;
3. Reminder: Cheating and malicious spamming are prohibited. Once discovered, the accounts will be disqualified.
CoinEx reserves the final interpretation of this announcement.
CoinEx Team
December 22, 2021
Follow us Facebook | Twitter | Reddit
Contact us Support | Telegram
About us Website | Announcements | APP